Lakers Legend Labels Heat Star Bam Adebayo's Block Against Jayson Tatum the Best Defensive Play Ever
Published 09/16/2020, 2:00 PM EDT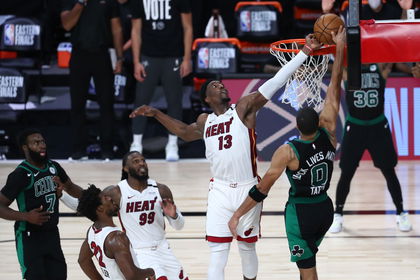 ---
---
Miami Heat came off with a hard-fought game one victory to open their Eastern Conference Finals series against the Boston Celtics. However, the Celtics were just one play away from snagging this win. Bam Adebayo rose to deny Jayson Tatum at the rim in a stunning block, which allowed Miami to hold on to their two-point lead in OT.
ADVERTISEMENT
Article continues below this ad
Five-time NBA Champion Magic Johnson was in disbelief with what he saw. He promptly tweeted out a statement saying that Bam's block might have been the best defensive play in Playoffs history.
Bam Adebayo's block on Jayson Tatum's dunk attempt was the best defensive play I've seen ever in the playoffs!!!!

— Earvin Magic Johnson (@MagicJohnson) September 16, 2020
ADVERTISEMENT
Article continues below this ad
While Bam's block is technically one of the hardest to pull off, there may be some defensive plays that rank ahead of this. LeBron James's iconic block of Andre Iguodala completed a 3-1 comeback in the NBA Finals against a team that went 73-9. Even Hakeem Olaujuwon's game six block on John Starks may rank ahead of this. However, Magic is correct in giving Adebayo the credit he deserves for making a big-time playoff play.
Miami Heat and their momentum heading into game two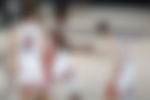 Adebayo's block emphasized what we have known about this Miami team. They are strong and gritty, but they will never rollover. Most players would just let Tatum get the dunk off due to the lane he had gotten. However, Adebayo risked getting put on a poster when he contested that shot. it worked, and Heat picked up a crucial game one win.
ADVERTISEMENT
Article continues below this ad
Prior to the block, Jimmy Butler gave Miami a lead. His increasing offensive reliability further shows how dangerous the Heat are. However, that doesn't mean Boston will be beaten easily. They are stacked with offensive talent and were just one play away from forcing a second OT.
The Heat have to rely on their aggressive defense for wins. Adebayo's block symbolizes the heart with which the Heat have fought all season. Boston has a lot of offensive weapons, so the key for the Heat is to neutralize them. Bad shooting performances won't be common for all Boston stars, but Miami has to ensure that every point is earned. They have the shooters to score for them, and the all-encompassing basketball brilliance of Jimmy Butler.
ADVERTISEMENT
Article continues below this ad
Hopefully, the Adebayo block proves to be a sign of things to come for this Miami team. Boston will be hoping for the exact opposite.