Lakers Teammates Show their Love for Rajon Rondo as He Bids the Team Farewell
Published 11/21/2020, 4:10 PM EST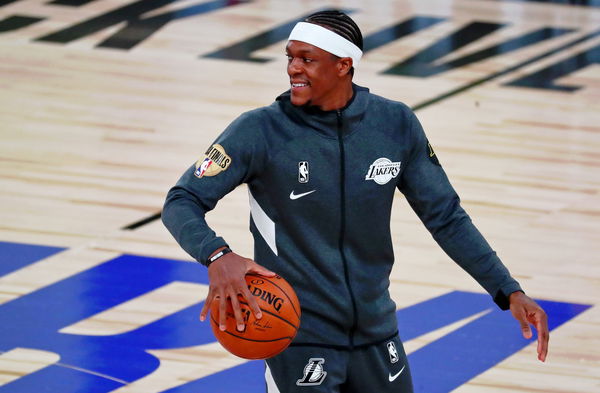 ---
---
The 2019-20 Los Angeles have been busy this off season, to say the least. They have bolstered their roster with the addition of players like Dennis Schroder, Montrezl Harrell, and Wesley Matthews.
ADVERTISEMENT
Article continues below this ad
They have seen a fair share of departures as well. Danny Green was traded to the OKC first, then Dwight Howard, who was a free-agent signed with the 76ers, and then reportedly Avery Bradley, also a free agent joined the Miami Heat.
4-time all-star and veteran point guard Rajon Rondo also joined the list. Rondo took to Instagram to bid the 'Purple and Gold' adieu.
ADVERTISEMENT
Article continues below this ad
He wrote, "Thank you to the Lakers organization, Jeanie and Rob for giving me the opportunity to play for an incredible franchise. The professionalism and support from Frank, the coaching staff and support staff is something I'm truly grateful for.
"With my guys, there's an amazing brotherhood that only we know. To the fans…thank you for welcoming me with open arms from Day 1 and showing me love.
"Being apart of #LakeShow was something special and I'm proud we brought it back to you! Now, what's next…"
To this, his teammate and fellow veteran Jared Dudley replied by saying, "We don't win without you bro!!" Dudley, who himself is an unrestricted free agent is eager to join the team.
Lakers' JaVale McGee also replied to Rondo's post and wrote, "Love Champ". The Lakers had added multiple veterans like Rondo, Howard, etc. last season in order to go for the championship.
This off-season they are making moves in order to build a good support cast for the post-LeBron Lakers led by Anthony Davis.
Rajon Rondo at the Lakers
Rajon Rondo's first season at the Lakers was unsuccessful. With their main man LeBron James injured, the Lakers were toothless and did not even make it to the Playoffs.
The addition of a star player like Anthony Davis changed the Lakers' fortune. They suddenly became the favorites for the championship. Rondo was not that good in the regular season. He only averaged 7.1 points, 5 assists, and 3 rebounds.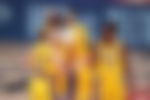 Once the Playoffs were around the corner, Rondo turned into an absolute beast. With Avery Bradley opting out of the Bubble, Rondo was the backup point guard and was very crucial in LeBron getting some crucial rest.
ADVERTISEMENT
Article continues below this ad
He also upped his output to 8.9 points, 4.3 rebounds, and 6.6 assists. Whenever the Lakers were down, Rondo would come in and offer them some much-needed energy.
He was very crucial in the Playoffs. His stats may not suggest the same, but we cannot underestimate his impact on the court.
With Rondo's departure, the Lakers find themselves in a tricky situation where two of their point guards have left the team. Rondo was a key player in the Lakers. Can Schroder or some other player have the same impact? Only time will tell.
ADVERTISEMENT
Article continues below this ad