LaVar Ball Claims His Sons Will Be Better and More Popular Than Michael Jordan
Published 12/09/2020, 6:00 AM EST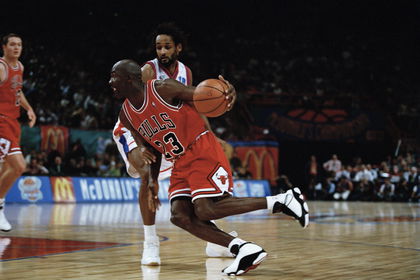 ---
---
The 2020 NBA Drafts were interesting in many aspects. Michael Jordan and his Charlotte Hornets had their eyes on Anthony Edwards and LaMelo Ball. Since the former went to the Timberwolves, it was only natural for Jordan to select LaMelo. But there was another thrilling angle to this.
ADVERTISEMENT
Article continues below this ad
LaVar Ball, the outspoken businessman and a college-level basketball player in his time, had never ironed things out between him and MJ. In fact, on one occasion, he had infamously claimed that he could "destroy" Air Jordan in a one-on-one. He does not let go of any opportunity to drag MJ into debates. After LaMelo's draft, the Big Baller Brand CEO has all the more reason to speak.
LaVar Ball took his references to Michael Jordan to a new level
ADVERTISEMENT
Article continues below this ad In a recent interview, LaVar Ball began by speaking highly of Michael Jordan signing LaMelo to the Hornets. He exclaimed, "He fits into the scheme perfectly. Why? You're under the two men who are the greatest of all time besides me. So if you don't come to me, you got to go to Jordan and what better person to learn from? I'm not even saying to learn from. Jordan has been through those situations, so he know what my son is about."
LaVar was then back to his MJ-comparing self and pit his sons' popularity against that of Jordan when he first entered the league. LaVar added, "He [LaMelo] coming into the league more popular than Jordan. Why? Oh people say why are you saying that, boy no he didn't. Well, if Jordan was more popular than my son, he would be in Portland right now, but no, with social media, my son's going to be more popular. The social media era, that's what people don't get, this ain't the same era. So now, Jordan know what this thing is about the ride my son is about to be on."
How are Lonzo Ball and LiAngelo Ball doing in the league?
ADVERTISEMENT
Article continues below this ad
While things seem to be falling in line for both Lonzo Ball and LaMelo Ball, the middle child of LaVar is having a tough time trying to match up. The 6'5" guard/forward LiAngelo Ball was very recently awarded a non-guaranteed deal by the Detroit Pistons. He is also an active part of their training camp, and chances are strong that he too can make his NBA debut this season. However, there is also a strong chance that the Pistons could cut him loose and allow him to play in their G-league team instead. 
Lonzo Ball on the other hand is riding high after securing the 54th rank in ESPN's Top 100 NBA Players' list. He shocked the fans by staying way ahead of DeMar DeRozan, who ranked #82 on the list.
ADVERTISEMENT
Article continues below this ad
About the three Ball brothers, LaVar Ball hinted towards something crazy in his speech as he claimed, "And like I said, he [MJ] get all three of them, ooo… watch out!" Would you want to see all of them play for Hornets?