LeBron James And Carmelo Anthony Joins NBA Legends By Achieving Unique Feat in Playoffs
Published 08/30/2020, 12:33 AM EDT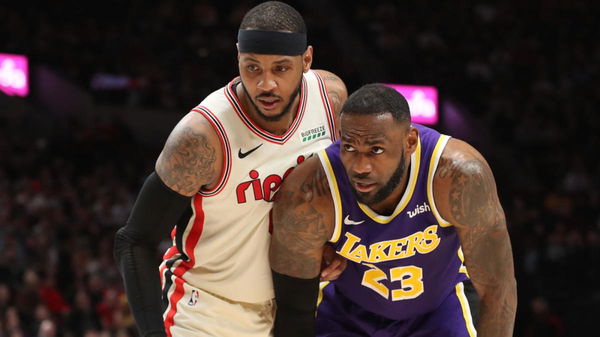 LeBron James and Carmelo Anthony turned back the clock for a tremendous head-to-head performance in game five. While LeBron and the Lakers took a strong 131-122 win, Melo had a great final stand for the Blazers.
Carmelo Anthony had 27 points and 8 rebounds on 56% shooting on the night. LeBron had a monster 36 point triple-double, leading the Lakers to a win alongside Anthony Davis's 43-point performance. The Lakers have defeated the Blazers in the first-round series of the Western Conference in 5 games. The Blazers upset the Lakers in game one, but the Lakers rebounded with four consecutive strong wins.
LeBron and Melo are in their 17th NBA seasons. Both were drafted in 2003, as Bron went first overall to the Cleveland Cavaliers. Two picks later, Carmelo Anthony made his way to the Denver Nuggets with the third pick. While both men have been elite, Carmelo seemed to fall off in the last few seasons. He was almost out of the league until he got an opportunity on the injured Blazers team.
ADVERTISEMENT
Article continues below this ad
Both men have become the third pair of opposing players to score over 25 points in a playoff game over the age of 35. They join Elgin Baylor and Richie Guerin, along with Jamal Crawford and Joe Johnson in 2017.
LeBron James and Carmelo Anthony are the 3rd pair of opposing players at age 35 or older to each score 25 points in the same playoff game.

They join Joe Johnson and Jamal Crawford in 2017 and Elgin Baylor and Richie Guerin in 1970. pic.twitter.com/OctbP7RNn0

— ESPN Stats & Info (@ESPNStatsInfo) August 30, 2020
LeBron James and Carmelo Anthony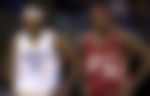 ADVERTISEMENT
Article continues below this ad
LeBron and Carmelo becoming the third pair of opponents to achieve this at this age is quite poetic. Not only is the feat impressive in on itself, as players are well out of this production levels by this age. But, this is made even better knowing the history that these two shares. LeBron and Carmelo entered the league together and had one of the best Rookie of The Year races of all-time. LeBron won the award for the 2003 season, but many campaigned for Anthony, whose team made the playoffs.
Carmelo enjoyed years of individual success with Denver and then the New York Knicks. However, his teams never made much noise in the playoffs. LeBron made some of the most aggressive championships push of all time, sometimes forcing low-quality teams to the NBA Finals.
The two shared a poignant moment together after knowing the history of this rivalry. The fact that they are still going at it 17 years later, while most of the others from that draft class are retired, was a beautiful sight to see.
ADVERTISEMENT
Article continues below this ad