How LeBron James and Anthony Davis' Friendship Helped Lakers Revamp, Elaborates Danny Green
Published 03/19/2020, 3:11 AM EDT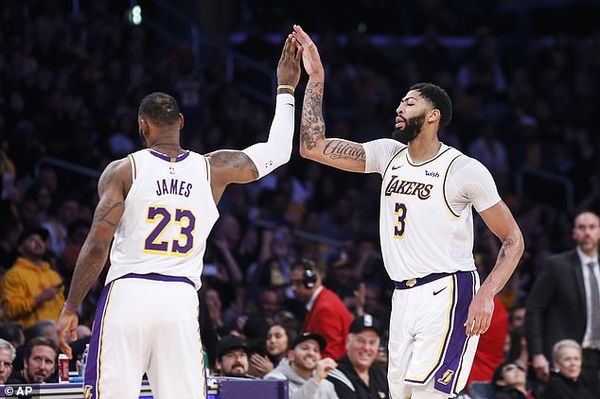 ---
---
In a recent interview given to the Bleacher Report' Taylor Rooks, LA Lakers star Danny Green gave an insight into what it takes to be a Laker. Danny Green who was high in demand this offseason choose to be a Lakers over Dallas Mavericks. In the interview, he also gave insight into why he chose to do so. When asked about LeBron James and Anthony Davis dynamic, he said that they embrace each other and both are the best of friends. Clearly, Green was pretty confident about the stars in the team and he said Lakers could definitely win it all this season.
ADVERTISEMENT
Article continues below this ad
This offseason, two time NBA champion decided to join the west coast team instead of Dallas Mavericks. Green explained to Taylor about this decision:
Green explained his reasoning behind this decision:
"Dallas was very interested, the Lakers were interested," Green said of his free agency. "But the Lakers, to me, were front-runners to me because of the pieces they had now.
"Dallas has some really good pieces, but I think it would be a year or two for them to be in that conversation," Green added. "But yes, those were the two front-runners. Outside of knowing what Toronto was able to offer, it was the Lakers and Dallas."
This decision by Green just came after once his former Toronto Raptors teammate, Kawhi Leonard, decided to join the Clippers.
Here is the full interview of Danny Green with Bleacher Report:
http://https://youtu.be/a8M4g3smXxY
LeBron James and Anthony Davis dynamic
Alongside LeBron James and Anthony Davis, Los Angeles has one of the best roosters in the league. Not only those two but LA squad depth is also worth mentioning which has made them Finals favorite. LA Lakers currently possess Western Conference-best 49-14 overall record. And is the first team to qualify for NBA playoffs this season. Not only this but thanks to LeBron and Davis dynamic its the Lakers' first playoff berth since 2013. Clearly, Lakers are one of the favorites for the NBA championship this year.
LeBron James who is also favorite for his 5th MVP is averaging 25.7 points, 7.9 rebounds and 10.6 assists per game in this season. While power forward Davis is averaging 26.7 points, 9.4 rebounds and 3.1 assists per game this season. These stats clearly explain how massive effect this duo has been on Lakers.
Till now it's pretty much unclear about NBA re-opener amid this coronavirus pandemic. And Lakers would clearly be hoping that this hiatus doesn't affect their momentum in post-season.
ADVERTISEMENT
Article continues below this ad