LeBron James Hypes Up Friend Dwyane Wade's 2008 Olympic Performance
Published 08/18/2021, 12:30 AM EDT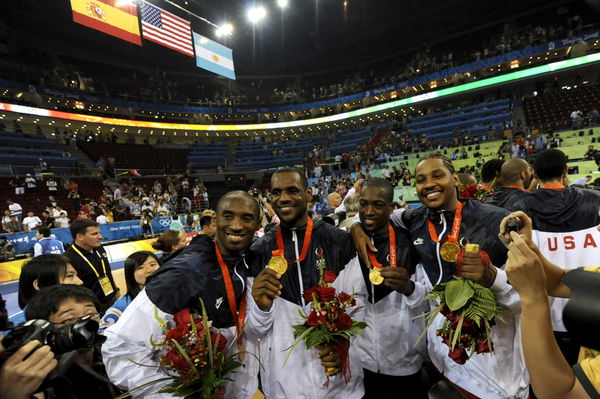 ---
---
At the 2004 Athens Olympics, the USA's basketball team returned with a bronze medal. Four years later in Beijing, the Redeem Team made their way to the 13th Olympic gold in men's basketball. Now, though the 2008 team had Kobe Bryant and LeBron James on the roster, it was Dwyane Wade who ended up stealing the show. To this day, fans remember Wade's highlights, including James – who has never failed to hype up his friends.
ADVERTISEMENT
Article continues below this ad
Timeless Sports, who shares old highlights and more on their account, recently shared a compilation of 2008 Dwyane Wade at the Olympics in Beijing. "Olympic Wade was a problem" they wrote, sharing the video along with it. Fans liked and shared the tweet, which eventually reached King James. The Los Angeles Lakers icon quote tweeted the video himself.
What does LeBron James have to say about 2008 Olympics Dwyane Wade?
ADVERTISEMENT
Article continues below this ad

"Absolute problem," James wrote, agreeing with Timeless Sports.
At the Olympics, Wade scored 16 points, 4 rebounds, and 1.9 assists per game. His highest-scoring performance came with the finals game vs Spain, where Wade dropped 27 points and 2 rebounds, shooting 57.1% from the three-point range. The USA won 118-107, Bryant adding 20 points and James scoring 14 points.
Lebron you and Wade were the Greatest duo of all time

Carry the hell on….

— Kendrick's Burner (@KendrickPBurner) August 17, 2021
Could you imagine how good you guys could have been if you'd ever played together? I wonder if someone could photoshop you guys in the same jerseys

— RIP Kobe (@lebronbots) August 17, 2021
Wade in general was a problem.

Sincerely, a Mavs fan.

— PringleBerry (@TallCanoChips) August 17, 2021
ADVERTISEMENT
Article continues below this ad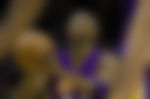 The retired Miami Heat icon was completely focused on the game, determined to bring a medal home. In an interview with NBC News, Wade admitted that he had shaved his hair off as he can solely concentrate on basketball. He did not want to brush his hair and remained skeptical of barbers that were not his.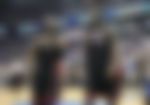 While speaking with The Platform Basketball Podcast last year, Wade also spoke about a documentary on the Redeem Team. "It's something that we've been working on for the last year or so," Wade had said. "For me, that was a big year, 2008. I had to kind of redeem myself, because everybody thought I was done". There is yet to be any further announcement on the matter.
ADVERTISEMENT
Article continues below this ad