LeBron or Giannis? NBA Legends Scottie Pippen, Magic Johnson, and Tracy McGrady Pick Their 2020 MVP
Published 07/28/2020, 3:40 PM EDT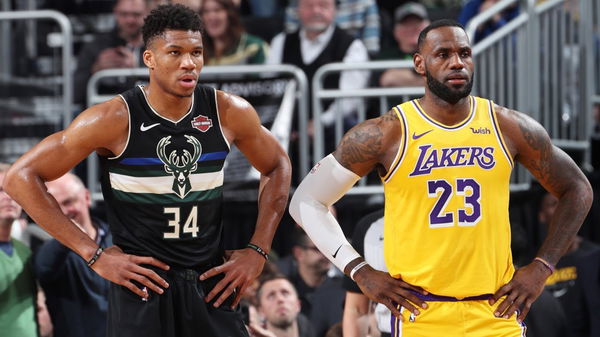 ---
---
The debate over who should be the NBA MVP this season – LeBron James and Giannis Antetokounmpo – is heating up. Pundits, fans, and players – everybody seems to have their opinion.
ADVERTISEMENT
Article continues below this ad
ESPN assembled three NBA legends in the form of Magic Johnson, Scottie Pippen, and Tracy McGrady to discuss this topic. This is what each man had to say to Rachel Nichols on the subject.
Magic Johnson is Team LeBron James, and made a case for The King to win his fifth MVP. "LeBron affects the game in so many different ways. This year, he's almost averaging a triple-double, and if you think about the way he's played defence and last but not least, the way he's been an incredible leader. He's really brought those guys together and kept them going."
ADVERTISEMENT
Article continues below this ad
Tracy McGrady vouched for Giannis to go back-to-back. "I gotta go with Giannis. From the first game, this team has been on a mission. He arguably could be DPOY, so he's playing both ends. I can't take anything away from what LeBron James is doing in his 17th year which is incredible to put up the numbers, but we can't forget he's also playing with Anthony Davis."
Six-time NBA Champion Scottie Pippen was on the fence, petitioning the league to give it to both men. "We've been left startled by what both these guys have been doing this season. From a team standpoint, obviously Giannis is trying to get his team back to the Eastern Conference finals… The work that LeBron has put out there over the years, what he's been able to do from team to team and his longevity, that to me says a lot… If the league is to ever split an MVP, this is their chance to step up."
LeBron James or Giannis Antetokounmpo for NBA MVP?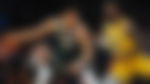 ADVERTISEMENT
Article continues below this ad
LeBron James is averaging 25.7 points, 7.9 rebounds, and 10.6 assists a game this season. He is shooting 50% from the field and 35% from three. He is the league-leader in assists this season. 'Bron is the only player with double-digit assists this season.
However, Giannis's numbers are more impressive than LeBron's. He is scoring 29.6 points on 55% from the field and 30% from three. He is averaging almost 14 rebounds with an impressive 5.8 assist a game.
Watch This Story
LeBron and Giannis differ when we analyze their impact on their team. LeBron is the man running the show for the Lakers, from a scoring and playmaking perspective. However, Giannis doesn't have a player like AD to feed for inflated assists numbers. Giannis does play in the inferior East, with LeBron leading the Lakers through the West.
ADVERTISEMENT
Article continues below this ad
From the looks of it, either man could win the trophy, but a lot of people seem to be leaning Giannis' way this year.
Sources: Basketball Reference, ESPN