LeBron James Overtakes Kobe Bryant, Kareem Abdul-Jabbar & Tim Duncan to Set a Spectacular All-NBA Record
Published 09/16/2020, 4:38 PM EDT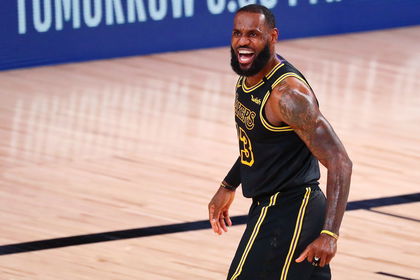 ---
---
Ever since entering the league in 2003, LeBron James has been one of the most impactful players in the league. He has won several accolades in his 17-year long career. And even at 35-years of age, King James is unstoppable.
ADVERTISEMENT
Article continues below this ad
James added another feather to his cap as he clinched a spot on the 2019-20 All-NBA 1st team. Following this accomplishment, James became a 16-time inductee of All-NBA teams, which places him at the top of an elite category which includes many all-time NBA legends.
ADVERTISEMENT
Article continues below this ad
LBJ passed Kobe Bryant, Kareem Abdul-Jabbar, and Tim Duncan on the list with his recent selection. This year has been nothing but sensational for the Lakers' superstar. Heading into the season, many people were skeptical of LeBron, but once again he proved his critics wrong with a phenomenal regular season.
LeBron led the Los Angeles Lakers to the number 1 seed in the stacked Western Conference. The Lakers won 52 games in the regular season behind James' heroics and are one of the heavy favorites to win it all.
Moreover, James led the league in assists while being a top-3 candidate for the MVP award. Although Giannis might clinch the MVP award, James still has a chance to win his fourth ring and the first ring in a purple and gold jersey.
Can LeBron James win the fourth ring of his career?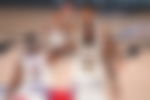 Despite being the #1 seed in the Western Conference, the LA Clippers or the Milwaukee Bucks were expected to win it all, heading into the 2020 NBA Playoffs. But the reality is quite the opposite: while the Lakers and LeBron James are preparing for WCF, the Clippers and Bucks have already been sent home.
ADVERTISEMENT
Article continues below this ad
So far the Lakers overcame the Blazers and Rockets in this playoff run. Surprisingly, many analysts picked the latter teams to defeat the Lakers. But King James proved everyone wrong and finished both series in just five games each.
Lakers will face playoff dark horses Denver Nuggets for a berth in the NBA finals. The Nuggets themselves have had quite a fantastic run in the playoffs so far. They have erased a 3-1 twice this year and could give the Lakers a run for their money.
LeBron James is currently averaging 26.6 points, 10.3 rebounds, and 8.8 assists per game in the Playoffs. James has also been a beast on the defensive end, blocking shots left and right in this postseason.
ADVERTISEMENT
Article continues below this ad
If James keeps this form moving forward, the 17th banner for the Lakers is not looking very far.