LeBron James Rookie Year: Accolades, Performances, Contract Details, and More
Published 10/18/2020, 12:30 PM EDT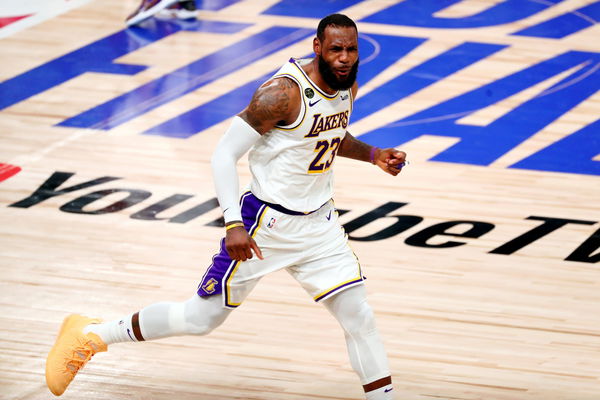 ---
---
LeBron James entered the NBA as one of the most hyped players in the history of the league. What's more surprising is the fact that he was just 19 years old at that time! But James didn't let the pressure get to him and hit the ground running from day 1.
ADVERTISEMENT
Article continues below this ad
17 years later, LBJ is a four-time NBA champion with numerous accolades to his name. But how well did LeBron do in his rookie year? If you are looking for answers to this very question, then you are in the right place. Today, we'll walk you through King James' rookie year.
What was LeBron James' rookie year?
ADVERTISEMENT
Article continues below this ad
LeBron was drafted by the Cleveland Cavaliers in the 2003 NBA draft with the no.1 overall pick. When James was brought to the team straight from high school, naturally his teammates doubted him and believed they were better than him.
However, when James flaunted his immense skill set at such a young age, the critics settled down. Although LeBron couldn't carry the team to the playoffs in his rookie year, the team improved by 17 wins and finished the season with a record of 35-47.
Did LeBron James win the Rookie of the Year award?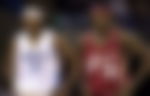 The 2003 Rookie of the Year was a close race between LeBron and Carmelo Anthony. It was one of the most controversial decisions to this date, but at the end of the season, James was awarded the honor. He averaged 20.9 points, 5.5 rebounds, and 5.9 assists per game in the 2003-04 season.
James collected 508 out of a possible 590 points to win the first-ever honor of his career. He was also part of the All-rookies' first-team, along with ROY honors.
What was LeBron's rookie contract?
When James entered the league as one of the most touted superstars, it translated into wealth for James. While the Cavs handed James a contract worth $18mil+ for 4 years, he landed a jackpot with Nike.
Nike signed James for seven-years with a deal worth $90-million without even stepping foot in the court. However, Nike's gamble paid off as James established himself as a force to be reckoned with in his career.
18 years old with a $90 Million dollar Nike deal.

May 22nd is a record-setting day — when @KingJames signed the richest rookie shoe deal in league history in 2003, before he ever played in a NBA game. pic.twitter.com/DlOcSTn4ac

— Nick DePaula (@NickDePaula) May 22, 2020
This deal by James was the biggest shoe deal for rookie until the Jordan brand signed rookie Zion Williamson for a $75-million deal for five years. But can Zion walk on the same path as LeBron James? Fans will find out in the coming years.
How much is a LeBron James rookie card worth?
James' impact on the league can be guessed from his rookie card's worth. King James' rookie card was sold for a record $1.8 million back in July. This proves just how valuable James is to the league, even after being in the league for 17 years.
A 2003-04 LeBron James rookie card sold at auction for $1.8 million.

It's the most any basketball card has ever sold for.

— SportsCenter (@SportsCenter) July 19, 2020
ADVERTISEMENT
Article continues below this ad
Next year, James will be on the quest for winning the fifth ring of his career. Moreover, with Anthony Davis as his second option, the Lakers are definitely the fan favorites to win back-to-back titles.
But the question remains, for how long can James keep up with these elite-level performances? At some point or another age, will take a toll on his body.
ADVERTISEMENT
Article continues below this ad
What do you think? For how long LeBron James can dominate the league?