"Little Bit Embarrassing"- Steve Kerr Reveals His Thoughts on His Depiction in Last Dance
Published 10/29/2020, 10:30 PM EDT
The 'Last Dance' is a miniseries that was released earlier this year. It documented Michael Jordan's career and the Chicago Bulls' campaign for their sixth NBA title in the span of 8 years.
The portrayal of the most iconic athlete and a celebrated team caused a buzz among viewers like never before. However, the NBA coach and former Bulls sharpshooter, Steve Kerr, confessed that he found one part of the series slightly embarrassing.
It was the final 2 episodes of the series that gave us a detailed inside into Kerr's journey. The NBA legend was an integral part of the Chicago Bulls in the 1990s, winning 5 titles with a team that was built around Jordan. It also touched upon the emotional family background that took us all by shock.
ADVERTISEMENT
Article continues below this ad
Kerr's coaching career has been a huge success as well. He led the Golden State Warriors to 3 championship titles, making them the most dangerous franchise in the league. After watching the series unfold, Kerr had some feedback about the same.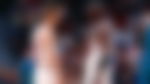 Steve Kerr didn't like the limelight?
On 'Jemele Hill Is Unbothered', Hill asked Kerr about his thoughts on his depiction in the Last Dance. He said, "I thought I was frankly portrayed a little too much and a little too often. It's interesting because you make a documentary like that, even though it was ten hours of coverage, they could've gone on and done fifty hours, probably."
ADVERTISEMENT
Article continues below this ad
Kerr also talked about the other people who the series should have also focused on. "But I know a lot of us felt like Ron Harper and Luc Longley should have been mentioned.
"They were starters on that team, actually starters on all three championship teams, and we didn't get much reference to them. So it was a little bit embarrassing that I was on there so often.
"But I understand the filmmakers had to focus on what they wanted and who was accessible. Luc's buried somewhere down in western, remote Australia. So there were some things that I would've liked to have seen."
ADVERTISEMENT
Article continues below this ad
The series might have some shortcomings according to many viewers, but all in all, the end product was beautiful. Capturing Michael Jordan's essence during that era and helping the current generation connect to it is an achievement in itself.