Patrick Beverley Completely Ridicules the Difficulty in Guarding LeBron James
Published 03/09/2020, 1:43 AM EDT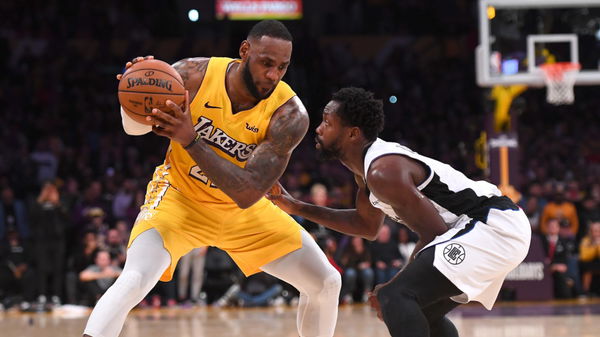 After the contest between Los Angeles Lakers and Clippers on Sunday, Pat Beverley felt it wasn't difficult to guard LeBron James.
The statements came in as a surprise considering the numbers the duo returned in the game. While James finished with 28 points, nine assists, and seven rebounds, Beverley had two points and three turnovers in 26 minutes.
However, ESPN Stats & Information research shows that none of James' 17 shots came against Beverley.
ADVERTISEMENT
Article continues below this ad
"No chance," Beverley said twice when a reporter asked him whether guarding James was a challenge. He said it was "not hard at all" to defend the four-time MVP.
Although he didn't praise James, Beverley credited the Lakers as a whole for their victory.
"We gotta give them a lot of credit," Beverley said after the game as per ESPN. "They took it personal … It's one game. Of course, living in L.A., man, it's hard to deal with this loss, but we have to wash it down the shower, keep getting better, and we will."
Throughout the game, the Lakers were strong defensively and their offence managed to outscore the Clippers. Paul George and Kawhi Leonard finished with 31 points and 27 points respectively but couldn't steer the Clippers to victory.
"The Lakers just played more physical. They were into it more, they executed more, they deserved the game tonight," Clippers coach Doc Rivers said. "They really did. The fact that we had chances was unbelievable to me.
"I really thought they had the better spirit tonight towards the game. And honestly, in the first two, I thought we had the better spirit in it. We'll see them again."
LeBron James gets MVP chants
In two of the toughest games for the Lakers this season- against Milwaukee Bucks and the Clippers- James led them to a victory. At 35, James has been showing his caliber. After a 37-8-8 performance against the Bucks, James' performance on Sunday brought out MVP chants from the crowd at the Staples Center.
ADVERTISEMENT
Article continues below this ad
After the game, James' teammate Kyle Kuzma was spotted crowning "The King."
ADVERTISEMENT
Article continues below this ad