Los Angeles Clippers' Teammates Not Happy With Paul George: REPORTS
Published 09/21/2020, 7:30 PM EDT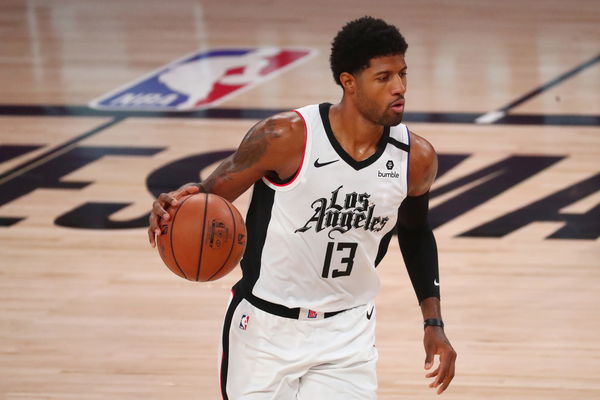 The Los Angeles Clippers run in the Playoffs is an accurate depiction of expectation versus reality. Though fans wanted to witness an all-Los Angeles Western Conference Finals, the Clippers ruined those chances. Nobody expected them to lose that series after they gained a 3-1 lead against the Denver Nuggets in the Conference Semi-Finals.
The Nuggets made a solid comeback, which took the series to Game 7. In the showdown, the Nuggets thrashed the Clippers and instead became the underdogs that played the Lakers. However, Paul George still showcased some optimism about his team and had some words of wisdom for them before they entered the off-season.
 Paul George leaves teammates unhappy
ADVERTISEMENT
Article continues below this ad

There were a lot of blame games after the embarrassing loss the Clippers faced at the hands of the Denver Nuggets. At first, coach Doc Rivers was ridiculed for the decisions he made during the series. Second, there was zero chemistry on the court between the players, and their key players did not stand up to their expectations. Although Kawhi Leonard did a decent job, Paul George was absent in his contribution to the scoreboard. He scored 10 points in the last game.
Other than that, George's equation with his teammates was unstable, even off-court. Almost throughout the postseason, he and his teammates partook in verbal spats, primarily due to George's poor performances and lack of accountability.
Nevertheless, George had some sound advice for his team after Game 7 loss. According to The Athletic, "George was preaching to teammates to remain committed, for all the players to return to the team this offseason and stay ready to make another run."
This was not taken very well by the teammates because George was unable to convert his words into actions this season. "It was met by some eye rolls and bewilderment, sources said."
ADVERTISEMENT
Article continues below this ad
What's next for the Clippers after their shocking elimination?

🆕 Inside Pass from @ShamsCharania on:
◾️️PG-13 & the Clippers
◾️️The Bulls, Pacers & Sixers' head coach searches
◾️️Will Barton's status
◾️️… and more. Tap in ⤵️

— The Athletic NBA (@TheAthleticNBA) September 21, 2020
Can the Clippers make a run for the title next season?
ADVERTISEMENT
Article continues below this ad
Well, Paul George seems to think so, and he has a theory why they didn't make it far this time. "We can only get better the longer we stay together and the more we're around each other," George said after the game. "I think that's really the tale of the tape of this season. We just didn't have enough time together."
Leaving the bubble may have dejected the title favorites, but this setback will not play as a barrier. They only plan to come back stronger and better prepared in the 2020-21 season.