"Had Me Tearing Up": LeBron James Reacts to Michael Jordan's The Last Dance Documentary
Published 04/27/2020, 6:35 PM EDT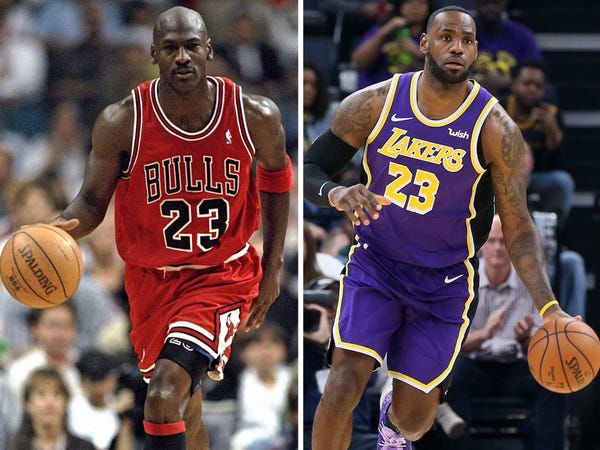 ---
---
While fans and analysts debate and argue over who the real GOAT is between Michael Jordan and LeBron James, both have stayed away from this controversy. When Kobe Bryant was in his prime, the world was fixated on comparing him with Michael Jordan. But when the kid from Akron rose from his poor initial years in NBA, the debate completely shifted to him vs Jordan.
ADVERTISEMENT
Article continues below this ad
The debate was especially high when the first two episodes were released. Even NBA stars were discussing the irrelevant GOAT debate. There were video and statistical based comparisons between the two's game and what not. Moreover, there was a lot of bitterness on social media with each side ultimately defaming the other.
Yet, there was no response from either of the two. Or there never has been one, as a matter of fact. Both continue to acknowledge each other's legacy without claiming who's the better one.
LeBron James Breaks Silence
ADVERTISEMENT
Article continues below this ad
But after the release of episode 3 and episode 4, LeBron James broke his silence and recognised the fact that he is also hooked onto the series (like everyone else). Tweeting, he said that seeing Jordan hold the trophy made him emotional and tear up. He related it to his own first championship with Miami, explaining that the feeling is unexplainable.
Watching Episode 4. Watching/Seeing MJ hold that first 🏆 damn near had me tearing up 🥺! That feeling and level of emotions is unexplainable when you been through the 🔥🔥🔥🔥🔥🔥🔥🔥🔥🔥

— LeBron James (@KingJames) April 27, 2020
ADVERTISEMENT
Article continues below this ad
The GOAT Debate: Who Comes out on Top?
Indeed the series brings back a lot of memories for people who have lived through the Jordan era. The trio of Jordan, Pippen and Rodman, their issues with Bull's Front Office and the support of Phil Jackson. They ended up winning 6 championship rings together and still stand as among the most successful NBA teams in the history. They had their own highs and lows, positives and negatives, which is depicted very well  in the documentary.
LeBron James on the other hand has had his own share of highs and lows. Starting from Cleveland, he drew heavy criticism when he traded out to Miami Heat in order to try to win a championship. And he indeed did. Later, he made the comeback of his life moving back to Cleveland, giving his home team their first championship in 2016. He later moved out of Cleveland again to Los Angeles Lakers in 2018 in a hope of cementing his legacy.
ADVERTISEMENT
Article continues below this ad
But who can we call as the GOAT is a redundant question. The two played in different eras, with different conditions and making a comparison is insulting the legacy of either of the players. All we can do for now is enjoy Jordan's documentary while we wait for LeBron to resume play once the 2020 season resumes.