Lakers for the Win? Team Sets a Unique Record Which Has Always Led to an NBA Championship Before
Published 08/01/2020, 7:01 PM EDT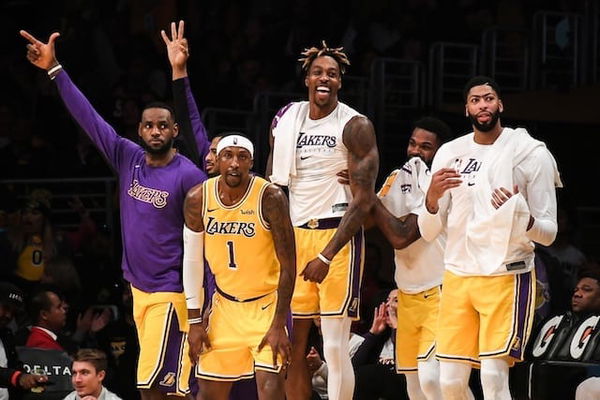 ---
---
Los Angeles Lakers are one of the hottest teams in the NBA this season. The team has stormed their way to the top of the Western Conference, only having lost 14 games all season. They are currently 50-14 this season and look set to further inflating that total. Lakers' 50th win this year came at the hands of rivals Los Angeles Clippers.
ADVERTISEMENT
Article continues below this ad
The Lakers franchise is not new to success. They are one of the most successful teams in league history, only trailing the Boston Celtics in championships won. These years of great play mean that teams have had some impressive achievements in the regular season also. The 2019-20 Lakers team became the sixth team in the franchise's history to have won 50 games in 64 played. The other 5 are the teams from 2008-09, 99-00, 87-88, 86-87, and 71-72. Each one of those teams ended the season as champions.
The 08-09 team was led by Kobe Bryant and Pau Gasol. Kobe was also a part of the 99-00 Lakers squad, but Shaquille O'Neal was the Finals MVP. The two seasons between 1986 and 88 were the teams led by Kareem Abdul-Jabbar and Magic Johnson, while the 71-72 team featured Elgin Baylor and Wilt Chamberlain.
ADVERTISEMENT
Article continues below this ad
In primetime NBA action tonight (8:30 ET, ESPN), the Raptors take on the Lakers.

The Lakers are 50-14 this season, the 2nd-best record in the NBA. It is the 6th time the Lakers have won 50 of their 1st 64 games in a season.

Each of the previous 5 times, they won the NBA title. pic.twitter.com/JdJs9quhrO

— ESPN Stats & Info (@ESPNStatsInfo) August 1, 2020
Los Angeles Lakers set for success?
ADVERTISEMENT
Article continues below this ad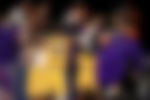 Now that they have matched this feat, it adds more pressure to the championship favorites. LeBron James and Anthony Davis have formed a deadly duo with each other and have reaped the benefits so far. Both men are averaging over 25 points. Where LeBron comes with the playmaking, AD joins with the defense. They are two of the most complimentary teammates since Steph Curry and Klay Thompson, but with added versatility.
The Lakers teams mentioned in the aforementioned list were all characterized by big duos and a supporting cast. Lakers have done a great job in filling out a competent roster full of veteran players. Most of them have had rebound seasons, like Dwight Howard, while others have stepped up in Alex Caruso and JaVale McGee. The team's foundation looks strong, but people are still questioning the talent and depth when held up against a team like the Clippers or the Bucks. We'll find out post-season time.
ADVERTISEMENT
Article continues below this ad