"I Flipped the Table, Threw the Chairs, Broke the TV.": When Allen Iverson Managed to Make Kobe Bryant Mad
Published 07/04/2020, 3:48 AM EDT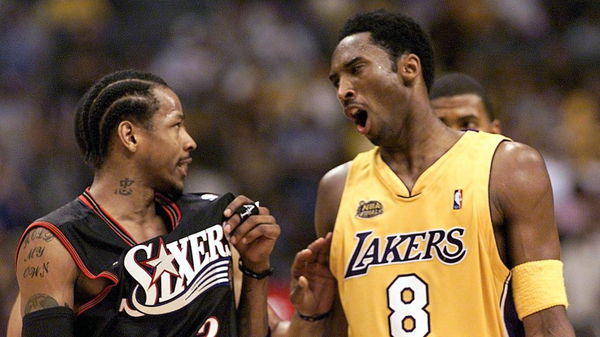 In 2018, a book named "Atomic Habits" revolutionized the way people dealt with their regular life. However, Kobe Bryant had decoded the golden rule of 1% daily growth way ahead of his time. Yes, we are pointing towards the late Basketball legend's Mamba Mentality. In other words, he knew the importance of doing better than yesterday for years and years without stopping. The Lakers' shooting guard was a machine that would not stop until he found himself ahead of the competition. 
The 6'6 giant penned down a powerful article for The Players' Tribune and proved his mentality for us. In the small write-up, he revealed how important it was for him to be the "Big Guy." The Black Mamba hated it if anyone even wished to dominate him on the court.
How Allen Iverson got Kobe Bryant mad
ADVERTISEMENT
Article continues below this ad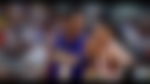 Allen Iverson was the first draft pick of the 50th overall draft in the NBA. He was picked by Philadelphia 76ers as the shortest (6' 0") overall pick. Ivy went on to become the NBA Rookie of the Year. But how was any of this bothering an 18-year-old Kobe back then?
Well, it was two simultaneously hosted matches that turned out to be game-changers. They left a huge impact on Kobe thought process. It was New York Knicks vs Philadelphia 76ers wherein AI scored 35 points and it was Los Angeles Lakers vs Houston Rockets where Kobe could manage merely two points.
Let us hear it from Kobe to understand his frustration:
"When I checked into my hotel room later that night and saw the 35 on SportsCenter, I lost it. I flipped the table, threw the chairs, broke the TV. I thought I had been working hard. Five minutes. Two points. I needed to work harder. I did."
Years went by and Kobe found AI getting better with every passing season. This competition was making him hungrier, and that is when he took an unconventional approach. He made it a point that he would study every minute detail about AI's game.
ADVERTISEMENT
Article continues below this ad
Kobe wrote in his address, "I obsessively read every article and book I could find about AI, watched every game he had played, going back to the IUPU All-American Game. I studied his every success, and his every struggle, searched for any weakness I could find. I searched the world for musings to add to my AI Musecage."
Kobe found his moment of glory when he hunted the prey!
On February 20, 2000, coach Phil Jackson awarded Kobe with the duty that he would never deny. He was asked to guard AI and what followed became history. When the star Basketballers began their tussle, AI already had won 16 points to his name by the half time. And when the match ended, AI still had 16 on board. As a matter of astonishment, this proved something, which still was not enough for a man with the stature of Kobe.
ADVERTISEMENT
Article continues below this ad
"I swore, from that point on, to approach every matchup as a matter of life and death. No one was going to have that kind of control over my focus ever again. I will choose whether or not your goals for the upcoming season compromise where I want to be in 20 years. If they don't, happy hunting to you. But if they do…. I will hunt you obsessively. It's only natural."
At last, it gets proved how Kobe hunted his way towards greatness considering the fact that he was with Lakers all throughout his playing career.