Former Lakers Player Reveals Hilarious Stories of Playing With Kobe Bryant, His Last Game in 2016 and More
Published 04/21/2020, 12:59 PM EDT

Follow Us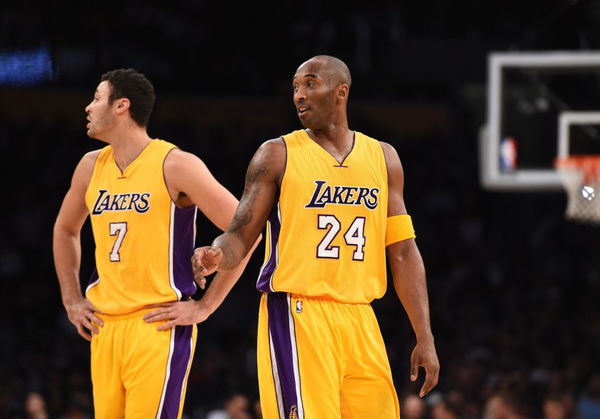 Larry Nance Jr. plays for the Cleveland Cavaliers in the NBA. The Los Angeles Lakers selected him as the 27th overall pick in the 2015 NBA Draft. He has played alongside both Kobe Bryant and LeBron James.
Nance Jr. is a towering guy and stands at 6-feet-7-inches tall. His ability to dunk the ball with sheer power is an astounding sight to watch. He joined ESPN's Omar Raja to discuss his poster dunks and his career in the NBA so far. 
Kobe Bryant encouraged Nance Jr. to dunk more often
ADVERTISEMENT
Article continues below this ad
When Nance Jr. was picked by the Lakers, he remembers how excited he was upon knowing that he is going to be teaming up with Kobe Bryant. Being a Cleveland player at the moment, Larry had no problems with showing his love for the Lakers nation. He called their fanbase a really expansive one with great support.
Recalling the farewell tour of Kobe Bryant, the support and love which he received by his rival fans was something he had never seen before. 
"To me, that made that year so much worth it and to go off with 60 points in his final game was like, Woah… What else is this guy gonna do?"
"Do we think we had to tell him that," was Larry's response when he was asked if Kobe Bryant was given the permission to take any shot he wants in his final game. He mentioned how the team strategy was to set screens for Bryant to shoot and get the offensive rebounds to pass it to him.
Larry also explained how Kobe made him step up his dunk game. Being a rookie in 2016, he was trying hard to get into the zone of his teammates. After a point, Kobe pulled him aside and said, "Yo, Lance. Dunk everything. I don't care where you're at. If you're under the basket, if you're going towards the basket or if you're near the basket, dunk anything and everything."
Playing alongside LeBron James for the Cleveland Cavaliers
Nance Jr. called LeBron James an awesome player and admitted that he didn't have one bad thing about him. He explained how James would ask his teammates to adhere to his game plan during timeouts and halftime periods. 
He mimicked James doing his business on the court. "Hey, when I beat my man off the dribble and your man steps up, be there because I'm going to drop it off to you."
ADVERTISEMENT
Article continues below this ad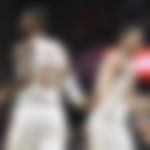 Larry described how the exact thing would happen when the play resumes. Everything that James plans out happens to perfection, according to him. 
The Cavs man remembers being left stunned after witnessing LeBron's masterful tactics on the court.
ADVERTISEMENT
Article continues below this ad
He is full of praise for James and deems his basketball knowledge as second to none. Such was the impact of having LeBron James as a teammate for Larry Nance Jr.
Larry also reflected on James' ability to carry a team all by himself. He took the 2018 playoffs season as a reference and brought up the four-time MVP's inhuman performances against the Indiana Pacers and the Toronto Raptors. "He was on another level. I have not seen anybody play like that," Larry exclaimed.