Kobe Bryant's Daughter Takes Fans Down the Memory Lane with Heartwarming Post Following Dodgers Win
Published 10/29/2020, 9:09 AM EDT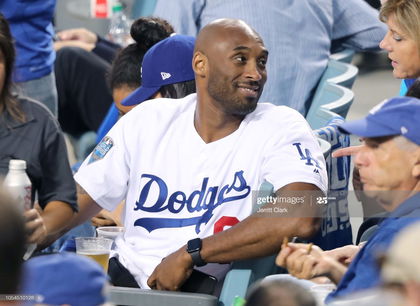 ---
---
Kobe Bryant and his life were not just confined to basketball. He was a perfect family man, a philanthropist, a film producer, a knowledgeable businessman, and a fan of sports. Additionally, the Black Mamba was a die-hard baseball lover. 
ADVERTISEMENT
Article continues below this ad
The man of substance, Kobe, was a New York Mets follower in his early days. But later on, just as he got drafted by the Los Angeles Lakers, his love and admiration shifted. Ever since 1996, he totally transformed into an LA boy. 'Everything Lakers' became a thing for him, and eventually, he fell for the Los Angeles Dodgers.
Kobe Bryant and his memories with the Dodgers
ADVERTISEMENT
Article continues below this ad
Recently, his family shared memorable pictures of him attending the Dodgers game. His eldest daughter Natalia Diamante Bryant, 17, shared a heartwarming click of Kobe Bryant sporting a Dodgers jersey. He can be seen cheering for them from the stands, just like any regular fan. 
As per another source, his wife Vanessa Bryant shared a couple of snaps on her Instagram (private) account. 
For the record, he was wearing a Manny Machado (third baseman) jersey #8. Interestingly, Kobe Bryant himself wore jersey #8 for 10 long years until 2006-07. After that season, he switched to the more popular #24 in which he won two more NBA Championships and took retirement.
The Los Angeles Dodgers were a fan of the Black Mamba
Evidently, the Dodgers had invited the 5-time NBA Champion in 2015 to throw the first pitch in one of their matches. Even after his retirement from the NBA in 2016, the Dodgers had awarded Kobe Bryant an opportunity to announce the team lineup ahead of their Game 4 (2018) against the Boston Red Sox. There are videos floating on the internet where Kobe can be witnessed dancing and roaring from the stands. 
When the Dodgers finally won the world series, ending the 32-year drought, it was seen as Kobe's victory too. After 1988, it was only the second time when both the Los Angeles Lakers and the Los Angeles Dodgers had won their respective championships. Most fans around the world believe it is all because Kobe somewhere inspired these teams to perform at their best.
ADVERTISEMENT
Article continues below this ad
A wandering mind now asks- what if Kobe might have kept his hands on Corey Seager right before the finals?
Read also – WATCH: Lakers' Kobe Bryant Pitching for the LA Dodgers in this Throwback Video
ADVERTISEMENT
Article continues below this ad