Los Angeles Lakers' Kyle Kuzma Claims Sanitizers "Don't Work"
Published 03/17/2020, 3:30 AM EDT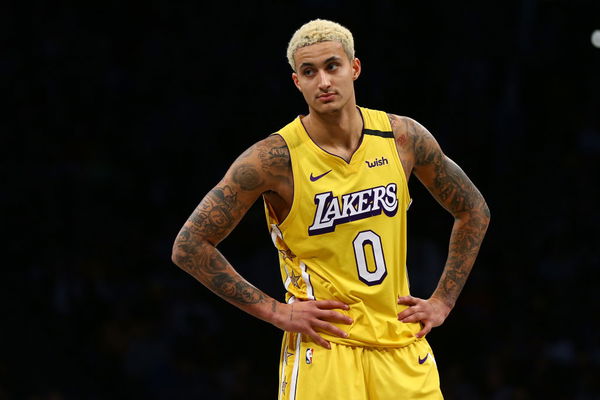 ---
---
While people have been increasingly advising everyone to use sanitizers during the time of the coronavirus pandemic, basketball player playing in the NBA, Kyle Kuzma, doesn't believe in the same. At least his Instagram story says so.
ADVERTISEMENT
Article continues below this ad
Kuzma's Instagram story read: "Now y'all finally finding out companies been taking money from us for years. This don't work," with a picture of a sanitizer bottle on a table.
ADVERTISEMENT
Article continues below this ad
While there is nothing new about sanitizers, its usage around the world has been on the rise in the wake of the coronavirus outbreak. The Pandemic is currently spreading to many parts around the world. Many major sporting events have been canceled in an attempt to reduce the spread of the virus.  Last Wednesday, the NBA suspended its league. Since then, Kuzma, like all the other NBA players, has been on a break.
Stephen A Smith believes Kyle Kuzma could be the option beyond LeBron James & Anthony Davis for the Lakers
Kuzma, 24, has played 54 games this season, with an average of 12.5 points per game. For the Lakers, who have built the team around the duo of LeBron James and Anthony Davis, Kuzma was expected to be the option beyond them. However, he hasn't been fully convincing in that role although he has had a few bright games.
In spite of Kuzma's below-par season, analyst Stephen A. Smith believes he is good enough for the role and he just needs to step up.
ADVERTISEMENT
Article continues below this ad
"I like Kyle Kuzma. This is a guy, that believes a lot in himself. He thought he should be the number 2 option, even for LeBron and AD there. We all know that's ridiculous, but the point is, if Kyle Kuzma could be quintessential 3rd option, we wouldn't be talking about the Lakers with doubt. Kyle Kuzma has to step up," Smith said.
ADVERTISEMENT
Article continues below this ad