Los Angeles Lakers Star Anthony Davis Takes Part in a NBA 2K Competition Along to Make Contributions to Charity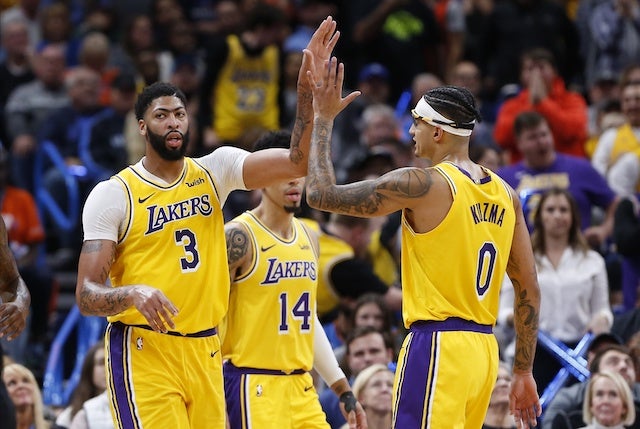 Los Angeles Lakers star Anthony Davis teamed up with Ronnie 2k and Ruffles to contribute to charity. Davis was invited to the Ruffles Ridge challenge on the Jimmy Kimmel show.
Appearing on the Jimmy Kimmel live, Davis and Ronnie 2k played NBA 2k with the show hosts. Davis and Ruffles announced a donation of $125,000 to Feeding America. Also, for every shot scored beyond a Ruffles line during the game, Ruffles announced a donation of $4000.
Got 4-pointers?@AntDavis23 and @Ronnie2K teamed up with @JimmyKimmelLive and @IAMGUILLERMO in NBA2K, with all proceeds going to Feeding America. @RUFFLES #ad pic.twitter.com/nFFiTBlUN4

— ESPN (@espn) June 16, 2020
Feeding America is an organization that aims to eradicate hunger in America. Founded in 1979, the organization has over 200 food banks.
Anthony Davis and Los Angeles Lakers will have their eyes on the championship
With the NBA agreeing on a league restart, Davis and Los Angeles Lakers will have their eyes set on the Championship. The Lakers strengthened their side when they signed Davis last summer. When the Lakers gave up Lonzo Ball, Brandon Ingram, Josh Hart, and multiple unprotected first-round picks for Davis, many believed it was a very huge price to pay. But once he teamed up with LeBron James, the Lakers were off to a flyer.
Soon, many put them among the favorites to win the season. Prior to the league's suspension, they were on top of the Western Conference with 49 wins. They had the best record in the league after Milwaukee Bucks.
Last week, the NBA agreed to restart the league with 22 teams. Amidst the protests against racial discrimination, there were a few players raising concerns over the league's resumption. Brooklyn Nets star Kyrie Irving, among others, believed that the NBA would affect the ongoing protests. Los Angeles Lakers center Dwight Howard later released a statement agreeing to Kyrie.
Lakers superstar LeBron James, on the contrary, has been in favor of a restart. He did not believe it would affect the fight against injustice.
Whenever the league would resume, the Lakers will be hungry to take a shot at the title.