Lakers' Star LeBron James Surpasses NBA Legend Dr. J's Crazy Defensive Record in NBA Playoffs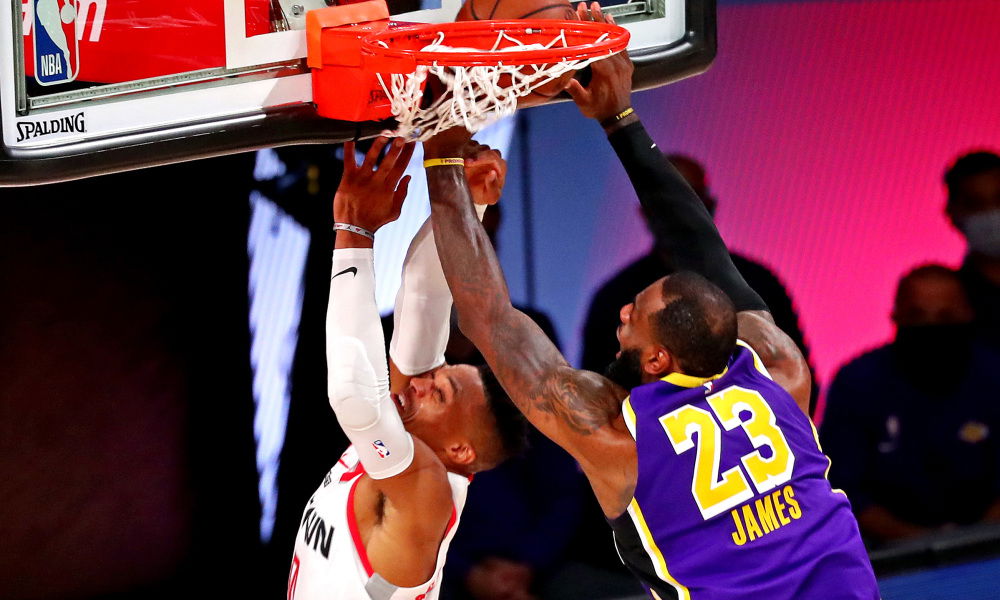 LeBron James is having a ball in the NBA Playoffs 2020. He is playing with the killer spirit of a legend that he is and the tenacity of a rookie player that he once was. The Lakers defeated the Rockets 112-102 in Game 3 of the conference semis, and Bron shined yet again with his heavy beating of the Rockets.
The Akron Hammer pounded 36 points, 7 rebounds, and 5 assists in the game. But that is not it. His insane blocks against the Rockets became the highlight of the match as he kept denying them shots back-to-back like a 'shot assassin'.
[youtube https://www.youtube.com/watch?v=VbisP8gIkG8?start=5]
LeBron James reaches new heights in the NBA Playoffs!
The L-Train was playing in his 247th playoff game when he stretched one of his many records. He recorded 4 blocks in the game out of the 6 blocks that the entire Lakers unit made possible. This takes his total number of blocks in Playoffs to 242. He can easily touch the astounding average of 1 block per game in the post-season if he keeps going at this pace.
https://t.co/MDUS3XglEV pic.twitter.com/GBWPm3Oagr

— Ballislife.com (@Ballislife) September 9, 2020
*The tweet was posted when Bron had 2 blocks in Game 3.
He had pulled similar blocks in Game 1 when he had denied a couple to Russell Westbrook. LeBron is getting more dangerous as the Playoffs are moving ahead. Have a look at one of his blocks and look at the aggression he brought-
Chasedown to end the 3Q!

LeBron is swatting everything 💥 (via @NBA) pic.twitter.com/hUYnjv3fcH

— SportsCenter (@SportsCenter) September 9, 2020
But still, LeBron is yet to take on many more records. Just to mention one, Kareem Abdul-Jabbar had 8 blocks in Game 4 of the 1983 Western Conference Semifinals against the Trail Blazers. That's the most by a payer 35 or older. The record for the most by a Lakers man is held by Andrew Bynum, who had 10 blocks in Game 1 of the 2012 First Round against the Nuggets.
The Lakers are shutting down haters!
The Los Angeles Lakers began both their playoff series with a loss. But then they turned themselves into a force that became just unstoppable. Rajon Rondo has finally shown why he was so hyped as he dropped 21 points in the game.
Now that the Lakers have someone outside of the star duo to rely on, they're more or less one of the hardest teams to beat. Let us see if the Rockets can come with some answers in Game 4.
Sourabh Singh
All work and no play makes Jack a dull boy. I intend to make popularise my quote when I say sports define me better than I define sports. See ya'all Champs!