Lakers' Star LeBron James Surpasses NBA Legend for Most Playoffs Win Record
Published 08/23/2020, 12:05 AM EDT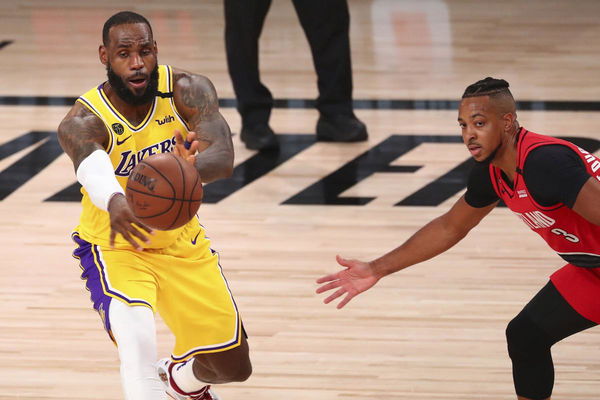 ---
---
LeBron James is one of the most famed Playoffs performers of all-time. Despite his 3-6 record in the Finals, LeBron has done a lot more winning than losing across his stint in the Playoffs.
ADVERTISEMENT
Article continues below this ad
He has led both bad (07 Cavs, 18 Cavs) and exceptional teams (11-14 Heat) to the NBA Finals. He has won a lot of Playoffs games over the last decade.
James had a near 38 point triple-double against the Portland Trail Blazers in Game-3 of their opening Playoffs series. This led to a convincing Lakers win, which added yet another win to LeBron James' tally.
ADVERTISEMENT
Article continues below this ad
James crossed his old NBA Finals rival, Tim Duncan, thanks to this win. Duncan and James have faced off in the Finals thrice, with Duncan having won two Championships.
Duncan was the second all-time in Playoffs wins with 127 before LeBron won his 128th game today. James now trails Derek Fisher, who has 161 Playoffs wins.
LeBron James and a history of winning
In his entire Playoffs career, LeBron has barely lost 83 games. He has a win percentage of 64% and has picked up three Championships along the way.
He completely dominated the Eastern Conference in his years there, losing in the Conference only a handful of times. LBJ has won 9 Eastern Conference titles in his career, with 8 coming consecutively. However, he has found himself outmatched in the Finals a few times.
ADVERTISEMENT
Article continues below this ad
In 2007, LeBron led a very weak Cavs team to be bested by the San Antonio Spurs in the Finals. He had a horrible series against the Dallas Mavericks in his first year with the Heat.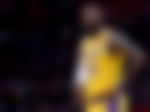 He won the most unlikely championship in NBA history in 2016, leading the Cavs to come back from a 3-1 deficit to beat the 73-9 Golden State Warriors. However, that is the season they got Kevin Durant and essentially closed the lid on LeBron ever winning a title with that team still around. His last NBA Finals appearance ended in a 4-0 sweep.
ADVERTISEMENT
Article continues below this ad
LeBron is on track to surpass Derek Fisher in the ongoing Playoffs if they make it out of the Blazers series. One win in the second-round could tie him up with Fisher, and two could boost him past.