Los Angeles Lakers vs Clippers: Why the Game Is so Important?
Published 03/07/2020, 1:51 PM EST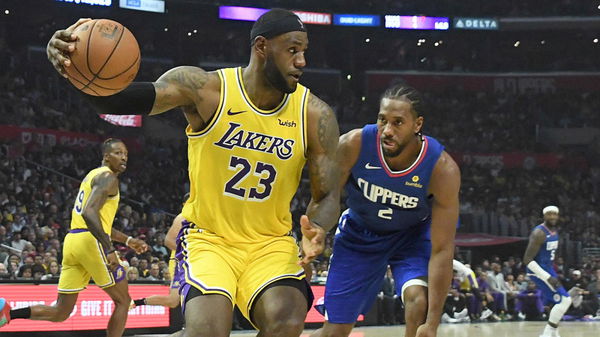 ---
---
There is no such thing as a must-win NBA game in March, but if the Los Angeles Lakers are going to reach their championship goals this season, they have to win against the  LA Clippers.
ADVERTISEMENT
Article continues below this ad
It's why Sunday's centrepiece game at Staples Center is one of the more intriguing games left on the regular-season schedule. The cotenants play again April 9 in a rescheduled game, but it's the third night of a rare back-to-back-to-back for the Lakers.
ADVERTISEMENT
Article continues below this ad
Los Angeles Lakers – Clippers rivalry
With that in mind, it's important to note that the Clippers have been compiling victories of one kind or another against the Lakers since July. Kawhi Leonard choosing the Clippers in free agency. A 112-102 win on opening night without Paul George as Leonard scored 30 points and outplayed both LeBron James and Anthony Davis. The Clippers collecting a 111-106 win on Christmas Day when George did play.
ADVERTISEMENT
Article continues below this ad
At the February trade deadline, the Clippers acquired Marcus Morris when both L.A. teams presented offers to the New York Knicks. That was quickly followed by Reggie Jackson securing a buyout from the Detroit Pistons. Both L.A. teams were again in competition for Jackson's services, and the Clippers were again the winners. These victories don't earn the Clippers anything on the actual scoreboard. They don't carry over to a potential hallway playoff series in May.to say it doesn't matter isn't accurate either.
So while this is more of a projected rivalry than an actual one. Spend time in the locker room of either team and there's no mistake in the desire to win these games. Christmas Day had a huge buildup. And the tightness and intensity displayed in the game told the tale. They know that there's a strong chance the West's NBA Finals representative will be decided by this matchup.
Clippers are gaining momentum as they have won six straight games. They will be playing at a rare full-strength roster and they are 10-0 in such games. This is a chance for the Lakers to show its fangs. Perhaps they are poised to do so with James amidst his best play of the season.
ADVERTISEMENT
Article continues below this ad