WATCH: Kobe Bryant Hits Two of the Most Impossible Buzzer Beaters in One Game
Published 06/19/2020, 9:32 AM EDT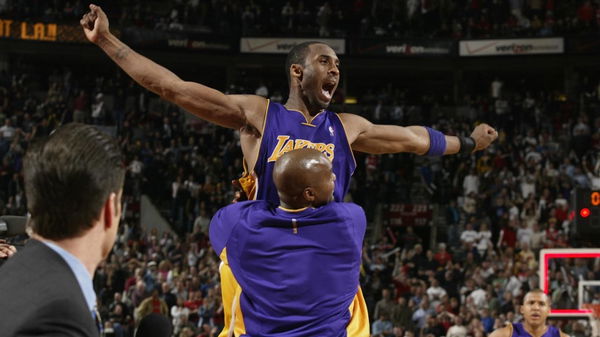 ---
---
The stats may not be supportive, but Kobe Bryant was one of the most clutch players ever. His tally of eight game-winning buzzer-beaters is only bettered by Michael Jordan, who had nine. In 2010, ESPN did a survey, where "for the ninth consecutive season, Bryant (79 percent) was also selected by GMs as the player they most want taking the shot with the game on the line."
ADVERTISEMENT
Article continues below this ad
He was one of the few players who managed to score two buzzer-beaters in the same game. He achieved this feat back in the 2004/04 season. It was the last game of the season and the Lakers were facing the Blazers at the Rose Garden Arena in Oregon.
With just 15 seconds left on the clock, Bryant missed a three when the Lakers were trailing 84-87. He then fouled Ruben Patterson who couldn't sink a single free throw. Eight seconds on the clock, the ball was inbounded to Kobe. He was guarded by Patterson, who had nicknamed himself the Kobe-Stopper. With Patterson's hands all over his face, Kobe struggled to make space despite the pump fake. Then Kobe did what Kobe does. He launched a wild three as he fell behind and it was all net. Overtime!
ADVERTISEMENT
Article continues below this ad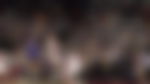 One buzzer-beater? Kobe Bryant says why not two
The first overtime was a stalemate again. Both teams could only score eight each. So with the start of the second overtime, the Blazers got possession from the jump ball. The game kept going back and forth and with 10 seconds left, Kobe missed a heavily contested jumper and the Blazers scored on the other end immediately. 102-104, Blazers up by two points.
ADVERTISEMENT
Article continues below this ad
With 2.2 seconds left, the Lakers called for a timeout. Before taking the shot, the Blazers fouled Derek Fisher on the inbound pass. The Lakers now just had one second left. As the referee whistled to resume play, Bryant ran from the paint to the three-point line and took the pass. He released a high-arching shot as he fell. Nothing but net once again. Blazers bamboozled, for the second time in the same game.
ADVERTISEMENT
Article continues below this ad
The Lakers snatched a victory as they won 105-104. Bryant finished the game 37 points, eight rebounds, and five assists. With that victory, the Lakers finished their season with 56 wins and locked their position as the second seed.