Luka Doncic Drops a Major Bomb on Potentially Teaming up With Nikola Jokic
Published 12/02/2020, 2:00 PM EST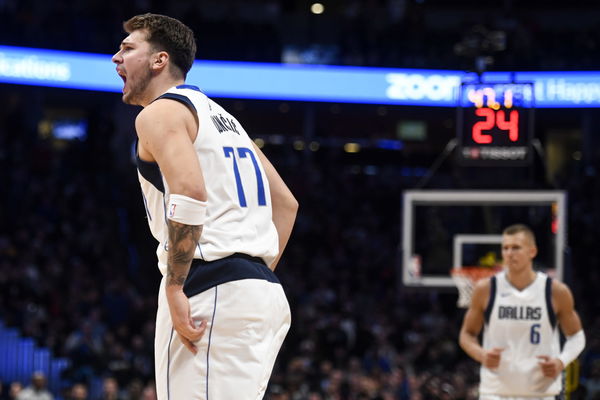 ---
---
Luka Doncic was just a sophomore during the 2019/20 NBA season, but he showcased unbelievable skills which made him a promising talent for the future.
ADVERTISEMENT
Article continues below this ad
Moreover, how dominant would the Mavericks be if they bought in Nikola Jokic to partner him? Doncic was asked about the possibility and he gave an exciting reply! 
The 2020 NBA Playoffs were certainly electrifying, and a few major upsets stole the limelight. Likewise, Nikola Jokic and the Nuggets dismantled the mighty LA Clippers and progressed to the Conference Finals for the first time since 2009. 
ADVERTISEMENT
Article continues below this ad
Luka Doncic was asked if he wants to trade Jokic in place of big-man Boban Marjanovic in his recent media availability. Here's what Doncic said: 
"I can't trade anyone. But if Jokic wants to come over, he should come over. He knows he wants to."
Jokic is a powerhouse, and he's got quality attributes in his bag. The Serbian will certainly bolster the Dallas Mavericks' roster if he joins the team.
Did Doncic and Jokic hold any internal talks on teaming up together? Well, we'd never know unless they reveal it to the media! 
But imagine if this was made possible by Mark Cuban. If he can arrange the right assets in order to lure Jokic from Denver, then we'd witness one of the most dominant pairings in the modern-day game! 
Luka Doncic wants to get better as he enters year #3 in the NBA
We've seen very little of Luka Doncic in the NBA, but his mesmerizing talents have already established him as the future face of the league. The Slovenian recently sat down for a chat with the media, where he mentioned the primary goal he has in mind. 
"Every year I want to be better," said Doncic. "That's the goal for me. I also want to win the championship. That's the goal we entered last year. And that's the goal we're going to enter this year."
ADVERTISEMENT
Article continues below this ad
Furthermore, the Mavericks boasted of the most efficient attack last season but struggled to close out games that leaned in their favor. However, it is a matter of experience and Doncic feels the team is well equipped now. 
"I think everybody learned from that," he added. "We were a young team. And I think this season is going to be way better than last season."
ADVERTISEMENT
Article continues below this ad
Things look bright for the Dallas Mavericks in the upcoming season. A determined Luka Doncic will lead the lines, and fans would hope that Kristaps Porzingis gets back soon to add to the strength. How far will they go this season?