Luka Doncic's Reaction Sums Up Everything As Dallas Mavericks-Pelicans Game is Sensationally Called Off
Published 01/11/2021, 3:54 PM EST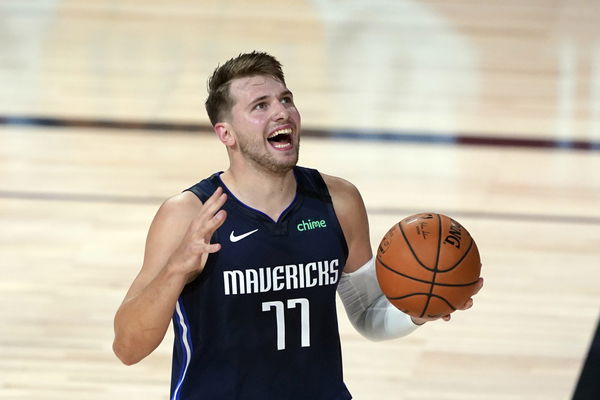 ---
---
The league ran into further postponement issues on Monday when the Dallas Mavericks game against the New Orleans Pelicans was called off to keep in line with the NBA's health and safety protocols. The third straight day that this is occurring in the league.
ADVERTISEMENT
Article continues below this ad
Dallas doesn't have the eight eligible players, so Mavericks-Pelicans is postponed tonight, sources tell ESPN.

— Adrian Wojnarowski (@wojespn) January 11, 2021
ADVERTISEMENT
Article continues below this ad
But going into this matchup, they had 11 available players listed in their roster. Since the likes of Josh Richardson, Jalen Brunson, and Dorian Finney Smith were already under isolation. While Maxi Kleber reportedly tested positive after the win against the Orlando Magic. And under the league's rules, a team needs a minimum of 8 players under its wing for a game to go ahead.
Mavs had four players out due to health and safety protocols — Jalen Brunson, Dorian Finney-Smith, Josh Richardson and Maxi Kleber — and did not add any due to contact tracing after Kleber's positive test yesterday. That means at least five more Mavs entered protocols today.

— Tim MacMahon (@espn_macmahon) January 11, 2021
So why was it postponed? It is very likely that there was further contract tracing done after Kleber tested positive. Also, they had to shut down their practice facilities as reported by Tim McMahon. Hence, resulting in this plight.
However, this caught their star player Luka Doncic off-guard. Given that he is the central figure, fans may expect him to know what's actually going on inside their camp. Though by the looks of his most recent tweet, his reaction to the postponement is not very positive. He seems bewitched and without a clue of what's happening.
Actually, he is not alone as the fans are starting to get tired of these last-minute calls. They demand more clarity; planning to continue like this may not be so sustainable for the mental health of the players. Perhaps shutting down the league is more imaginable now.
Kristaps Porzingis was all set to make his 2020-21 NBA season debut for the Dallas Mavericks
ADVERTISEMENT
Article continues below this ad
The poor Unicorn simply can't catch a break! After much anticipation surrounding his return, he was finally set to grace us all with his presence tonight. But it wasn't to be. And he will have to wait a bit longer while the fans can't wait to see him in action as well.
ADVERTISEMENT
Article continues below this ad
Well, let's just say that everything happens for a reason. So, hopefully, Kristaps Porzingis can take to the court in the game against the Charlotte Hornets. And by that time, maybe the league comes up with some revised set of rules to prevent such occurrences again.