Marc Reveals His Thoughts on Brother Pau Gasol Wanting to Return to the LA Lakers
Published 12/11/2020, 1:55 AM EST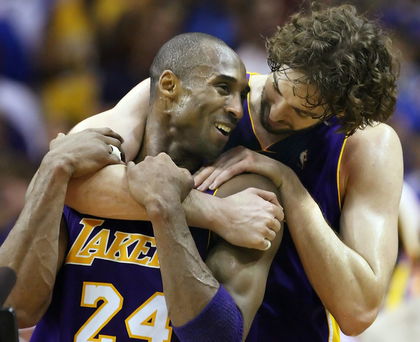 ---
---
Pau Gasol is one of the most underrated players in NBA history. The Spaniard was one of the most dominant players of his time and helped Kobe Bryant and the Lakers win two NBA championships back-to-back. However, 10 years after his last championship, Gasol wants to return to basketball, specifically the LA Lakers to play with his brother Marc Gasol.
ADVERTISEMENT
Article continues below this ad
Pau Gasol made his basketball debut with Barcelona. He eventually joined the NBA in 2001, going to the Memphis Grizzlies. In 2008, the Lakers acquired Gasol in a trade that sent the draft rights of his brother Marc to Memphis. Within his first season with the Lakers, he and Kobe made the NBA Finals, only to lose to bitter rivals Boston Celtics.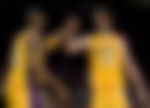 ADVERTISEMENT
Article continues below this ad
The next year, Gasol and the Lakers came back with a vengeance. He and Kobe took the Lakers to the NBA Finals once again, and defeated the Orlando Magic to win the NBA Championship. While Kobe won Finals MVP, Pau was also a crucial factor in that championship win.
The following year, Kobe and Gasol once again made the NBA Finals, this time against the Celtics who beat them in 2008. In 2010, however, the Lakers got the best of the Celtics, winning a consecutive NBA Championship.
Marc wants Pau Gasol to be healthy
ADVERTISEMENT
Article continues below this ad
After the 2010 championship win, Gasol played an important part with the Lakers till 2014. After this, he bounced around to teams such as the Bulls, Spurs and Grizzlies before calling time on his career. But now, Gasol is preparing for a return to the NBA at age 40, and has made it clear that it would be special to play with his younger brother Marc with his old team.
Marc Gasol spoke to the press about the possibility of Pau joining the Lakers. While Marc would relish the idea of playing with him, he emphasized that the primary concern should be Pau's health. Marc said:
"I think it's up to himself. First and foremost, Pau has to look and be healthy, and has to continue to stay healthy throughout the process of rehabbing. Building that endurance and building that continuous impact on his foot and his bone is really crucial. The only way you know that is through playing. I think he has to find a way to play a little bit and see how his body reacts to that. And I think that should be the main focus right now, rather than where he's going to play. More important is his health and how he feels and how his body reacts to the workload."
ADVERTISEMENT
Article continues below this ad
Pau Gasol's return to the Lakers would be an interesting storyline. A former Lakers legend returning to win an NBA championship alongside his brother would be a story the league would love to see.