Miami Heat in a Terrible State as Players Forced to Spend Time Away From Gym or Basketball
Published 04/18/2020, 8:47 AM EDT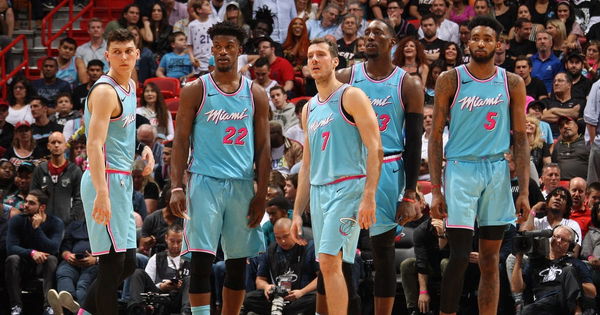 Ever since the coronavirus crisis worsened, the resumption date of the NBA remains a mystery. This has led to a situation where players have to train in their own homes. For the Miami Heat roster, maintaining their ball game has become a bit of a challenge.
Players usually have a basketball hoop in their backyard to practice. And during this quarantine, it would be handy to shoot some shots in the backyard just to keep hold of the touch.
Majority of the Miami Heat roster aren't engaging in shooting practice
ADVERTISEMENT
Article continues below this ad
Ira Winderman who covers Miami Heat for the South Florida Sun-Sentinel has revealed a rather upsetting news for Miami fans.
According to him, the Heat say that Jimmy Butler is the only player in the team to have a proper basket available for putting in the work. 33-year-old Goran Dragic is also said to have a portable hoop at his place. Apart from the duo, none of the Heat players have been in touch with the ball and shooting hoops. 
The Heat say Jimmy Butler is the lone player with an actual basket available for court work (he is in San Diego). Goran Dragic has a portable hoop, but that apparently is it for the roster. Most of Heat's young players live in condos.

— Ira Winderman (@IraHeatBeat) April 17, 2020
It is also due to the fact that many of the young Miami Heat stars live in a condo, where they would be deprived of the space to have a basket and some dry area to run on.
With just two players actively shooting baskets to keep up with their game, the Heat as a unit faces a major crisis as it is unsure when the league might resume.
The team's management is also helpless in this case. Owing to the severity of the situation, the team can't ask their players to visit their training center to practice. 
It is vital for players to not lose touch of their fitness and their skillset which they possess. Players train vigorously during the regular season and this sudden change in their routine will affect their in-game performance majorly, should the season resume anytime soon.
ADVERTISEMENT
Article continues below this ad
How the Heat have lined up so far
Miami Heat looks to be a promising team in the 2019-20 season. They currently stand fourth in the Eastern Conference table and aim to make it to the playoffs. They have a lot of talented players who can step up in clutch situations for their team.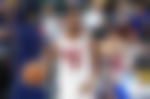 ADVERTISEMENT
Article continues below this ad
The Heat have also strengthened their defense this season. The average points scored against them in a match is 108. This stat is fairly decent when compared to other teams in the league.
Jimmy Butler has been impressive for the team in his first year. The 30-year-old is currently averaging 20.2 points, 6.6 rebounds and 6.1 assists per game this season. Without a superstar pairing for him this season, he has been able to take off on several occasions and proves to be a leader.