Reports Reveal Goran Dragic Stopped Jimmy Butler from Getting into a Fight Multiple Times
Published 12/16/2020, 12:00 AM EST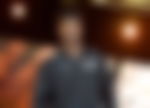 ---
---
The Miami Heat made it to the NBA Finals last season, after being led by Jimmy Butler. The five-time All-Star came to South Beach after being criticized and ostracized by the 76ers. One of the reasons the 76ers didn't want him was that he didn't fit their locker room culture.
ADVERTISEMENT
Article continues below this ad
Butler has always wanted the win more than his opposition, and that leads to him getting heated on many occasions. In the 2019-20 season, he had multiple bouts with Pacers' T. J. Warren and also tried to fight Lakers' Dwight Howard in the NBA Finals. He was also ready to fight Wesley Matthews in the series against the Bucks, despite him being a Marquette alumnus like Butler.
But fortunately for Butler, he has always had Goran Dragic to calm him down before the situation gets worse. Rohan Nadkarni from Sports Illustrated recently wrote about this relationship between them. He wrote, "Dragic, who said multiple times during the season he had to calm Butler down because he wanted to fight someone, is acutely aware of his teammate's soft side as well."
ADVERTISEMENT
Article continues below this ad
😂 Butler & Dragic pic.twitter.com/wsbxqIjO5J

— Ballislife.com (@Ballislife) December 12, 2020
Jimmy Butler: Bulldog on-court, but a different person off-court
Butler's determination on the court is second to none. He is one of the grittiest players, and he will not back down from any challenge. This is the mentality that he has instilled into his Heat teammates, and this is why they were able to reach the NBA Finals, despite the odds being against them.
Although he is very serious on court, off the court, Butler is a completely different person. He is not only of the funniest players in the NBA but also affectionate, especially when it comes to his teammates.
ADVERTISEMENT
Article continues below this ad
"Jimmy always checked on me," Dragic said. "After a few days he said, G, that's enough. Let's get out of your room, let's hang out. He was telling me injuries are part of sports. It happens. He's always such a positive guy. I'm really grateful for him."
After losing the first preseason game against the Pelicans, the Heat will face the Raptors in their second game. They were just two games away from winning the title last season, and so they are determined to go all the way this time.
ADVERTISEMENT
Article continues below this ad