Miami Heat Star Tyler Herro Debunks Popular Belief Around Jimmy Butler
Published 12/03/2020, 5:30 AM EST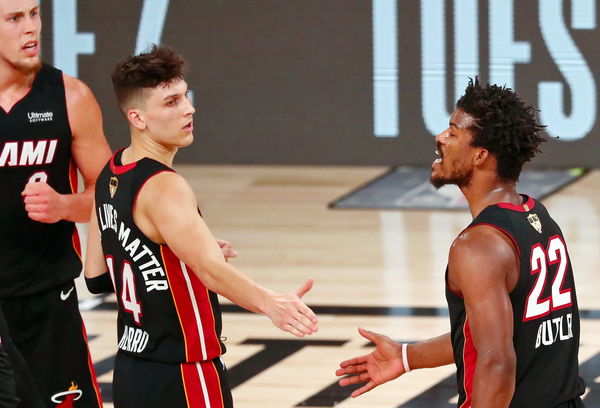 ---
---
It is safe to say that if it wasn't for Jimmy Butler, there is no way the Miami Heat would have won the Western Conference title last season. With his help, the Hear also gave a great fight to the Los Angeles Lakers in the NBA Finals. All his teammates speak very highly of his leadership skills, but that wasn't the popular opinion before.
ADVERTISEMENT
Article continues below this ad
Butler had a reputation for being a bad teammate. This stemmed from his time with the Minnesota Timberwolves and Philadelphia 76ers. In his debut campaign, he led the Timberwolves to their first playoff appearance since 2004. However, they were easily kicked out of the race by the Houston Rockets in the first round.
The drama started when Jimmy expressed his frustration about the loss to his teammates, Karl-Anthony Towns and Andrew Wiggins. It went so overboard that Butler was traded off to the 76ers. Unfortunately, Butler was very unhappy there. Not only was the chemistry off, but he didn't have a great relationship with coach Brett Brown, and their star players Ben Simmons and Joel Embiid.
ADVERTISEMENT
Article continues below this ad
After a long time, Butler has finally found a family with Miami Heat. All his teammates worship him and consider him the best teammate one could have. Surprised? Well, rookie Tyler Herro has set the record straight for Butler.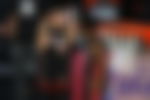 What is it actually like to have Jimmy Butler as a teammate?
The 13th overall pick, Tyler Herro, has been a surprise package for Heat. At just 20 years, he put up one of the best performances by a rookie in the league's history. And Jimmy Butler has played a huge role in mentoring him.
On J. J. Redick's 'The Old Man and The Three' Podcast, Tyler revealed that as soon as he was taken in by Heat, he reached out to Butler and from the get-go, and Butler took Herro under his wing. Herro said:
"As a teammate, he's going to come to the gym, joke, smile, laugh. He's just a great guy," stated Herro. "He's that guy who you would want to lead your team. Jimmy is a leader and people follow him. He always leads in the right direction. He is a worker, and he wants to win."
ADVERTISEMENT
Article continues below this ad
Herro also explained what made the Heat and Butler fit so well together. He said, "That's why the Heat and Jimmy get along so well is because they want to win and he wants to win. We put a really good team together. "
Looks like Butler has been redeemed as a teammate. Whatever took place with his previous teams is in the past now. He is the face of the Heat franchise and as long as he is around, they will always be title contenders.
ADVERTISEMENT
Article continues below this ad