Miami Heat's Jimmy Butler Makes it Evident That He Pays No Heed to Hate
Published 10/14/2020, 2:54 PM EDT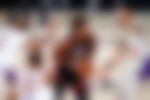 ---
---
Jimmy Butler may have lost the championship title, but he left the Orlando Bubble winning everybody's hearts. When all the Miami Heat fans lost hope because of Bam Adebayo and Goran Dragic's untimely injuries, Butler stepped up to the task and seized the moment.
ADVERTISEMENT
Article continues below this ad
He kept them alive in the series way longer than anybody expected. However, all the opinions were initially the exact opposite. People cracked jokes and passed comments about certain incidents like hotel security visiting him for dribbling the ball too loudly in his room and more.
Butler was a huge part of the Heat's success in these Playoffs. Coming up during clutch moments was his specialty, and it earned him a place in the league's Top-10 players this year.
ADVERTISEMENT
Article continues below this ad
No matter which direction the noise comes from, Butler doesn't seem to care one bit.
Jimmy Butler has no room for hate
It was during the first round of the Playoffs against the Indiana Pacers that Butler made his views about his hate crystal clear. "Believe me when I tell you that I do not care what people say about me," Butler said. "I truly don't care."
According to Marc Stein of the New York Times, Butler gave him some insights right before the NBA Finals. "I'm so comfortable with being myself — more than I've ever been.
"Not saying I've ever not wanted to be myself, but now I know 'myself' is the right way."
Butler has a rocky relationship with the teams he previously played in; so much so that rumors suggest that his split from the Chicago Bulls and even the Philadelphia 76ers was far from amicable.
However, the way that the Miami Heat have embraced Butler, it seems like the 31-year-old has turned over a new leaf.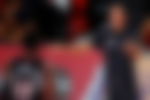 Even the coach, Erik Spoelstra only has wonderful things to say about the star. "He's such a likable guy. He won't want anybody to know that, I guess.
ADVERTISEMENT
Article continues below this ad
"He's totally cool with the young guys growing — he's not territorial about it at all. He's just about winning. He understands that he needs guys with him. All the big winners get that."
The Houston-born phenom has seemingly found his home in the Miami Heat. He certainly adds tremendous potential to Heat's future, and the chemistry he shares with his teammates will certainly go a long way as far as mounting title challenges are concerned.
ADVERTISEMENT
Article continues below this ad
As long as that stays intact, Jimmy Butler has nothing to worry about.