Dennis Rodman grew up under severe hardship and made his way to the top with his hard work. 'The Last Dance' showed us how he evolved into becoming the player he was in his prime. Rodman had a troubled past, but he overgrew it and turned into a three-time champion with the Chicago Bulls.
Jason Hehir is the director of Michael Jordan's ten-part docuseries. In a recent appearance on ESPN's 'Jalen&Jacoby,' he commented on the struggles he faced while interviewing Rodman. 
Dennis Rodman and his unusual requests during the filming
Rodman initially appeared two hours late for his interview, which didn't please Hehir.  Maybe Rodman thought he could afford it, given who he was. He mentioned how Rodman would keep messing with him by often forgetting the entire reason behind the interview.
"Interviewing Dennis Rodman is like trying to interview a feral cat," said Hehir. "He's not looking in the same place, he's got those big shades on. Every other sentence was going back to Kim Jong-un and how he was gonna be in the history books."
Rodman, famous for donning crazy hairstyles in his playing days, was not giving Hehir enough content. He spoke for merely ten minutes when they needed him to talk for hours. Rodman would also make insane requests in the middle of filming, which the crew had to fulfill.
Dennis Rodman = feral cat?#TheLastDance director @jasonmhehir describes what it is like to interview Dennis Rodman 😂 pic.twitter.com/UKhuRctgks

— NBA on ESPN (@ESPNNBA) April 27, 2020
"So he sits down. I'm just kind of shooting the s**t with him, and he says, 'I need a tuna sub from Subway and some chamomile tea.' It was like Chappelle sending the guys for a sugar cookie in Queens. Unless you pass this test, you cannot do this interview. So we got him the tuna sub, we got him the chamomile tea, and he sat down for three hours. But that is a difficult guy to interview," Hehir expressed.
Rodman's relationship with Kim Jong-Un
Dennis Rodman has a peculiar taste in friendship. Of all the people on earth, he became best friends with the North Korean dictator Kim Jong-un. The pair's first meeting was at Pyongyang, when Rodman traveled there for a basketball trip in 2013.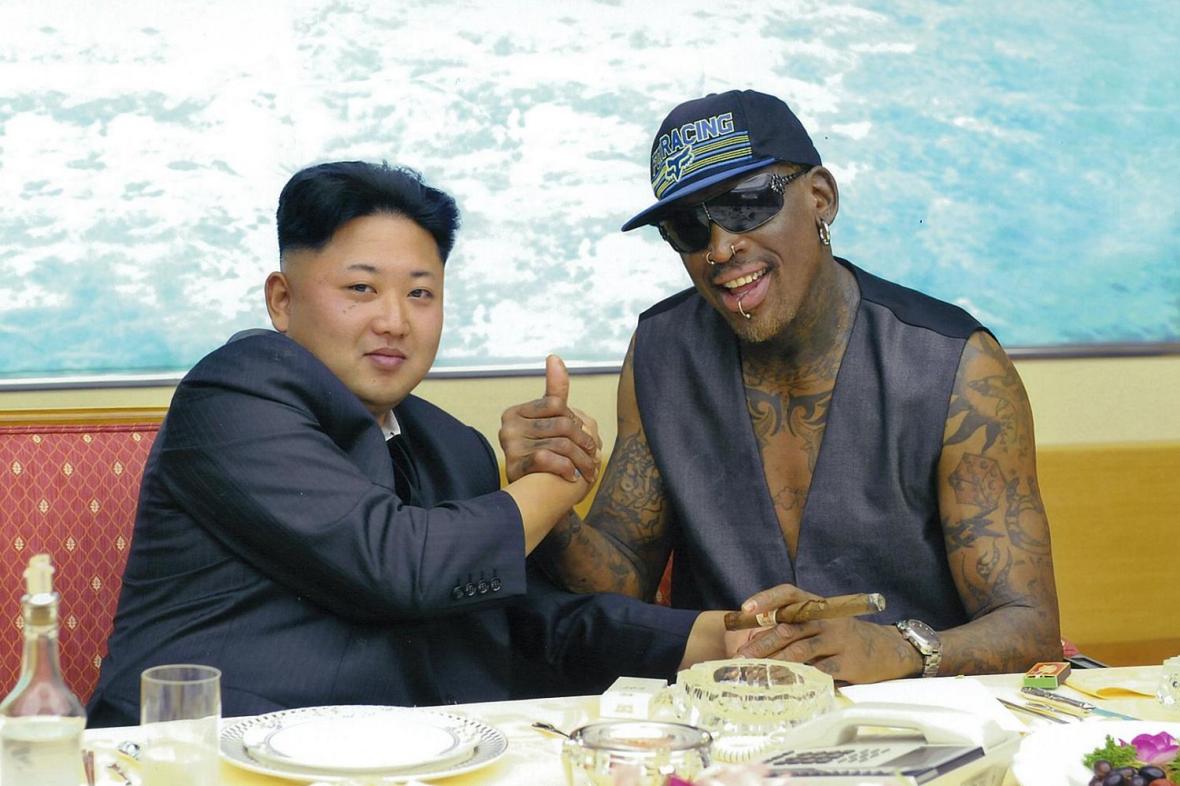 Jong-Un is a die-hard fan of basketball and passionately supported the Bulls when they dominated the league in the 90s. Thus, Rodman and the Supreme Leader of North Korea instantly hit it off. This unusual friendship has been long-lasting and they have even been on jet-ski trips together. 
With reports that Kim Jong-un is critically ill, Rodman recently offered his prayers for his speedy recovery. "I hope it's just a rumor that Marshal Kim Jong Un is sick," Rodman told TMZ sports. "Hopefully, I will find out more soon."