Mike Conley Reveals Almost Breaking Up the Steph Curry-Klay Thompson Led Warriors Dynasty
Published 02/06/2021, 7:44 PM EST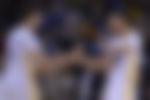 ---
---
The Golden State Warriors have been one of the most successful teams in the last 10 years. They have made the NBA finals five seasons in a row and have won three championships in that time period.
ADVERTISEMENT
Article continues below this ad
Although now they are one of the most successful teams, things could have been very different for the Dubs. In the 2015 playoffs, the Warriors faced off against a solid Memphis Grizzlies team. Former Grizzlies guard Mike Conley recently opened about the series in the JJ Reddick podcast.
There he opened up abut how they had almost ended the Warriors' dynasty even before it started. He said, "That series is our What if I think more than anything because if we win that series who knows if the Warriors are the warriors dynasty of you know that everybody knows you never know?"
ADVERTISEMENT
Article continues below this ad
"To begin the series I had just got the orbital fracture and the or the previous series, so I miss game one. Came back for game two we won and a winning at home again go up to one and like, we're like, Hey, we we got these guys we know we got to do we know you know, we know what needs to be done."
"Steve Kerr started making it like huge adjustments. I mean huge adjustments in game for you know, he put Andrew Bogut on Tony Allen and kind of cross match, you know, just kind of threw us all for a loop. And like, we just were like running in mud at that point."
He added, "And at the end of the day, like, you look back at and it's like, man, if one of two things were different if we win that game four if, you know, I was 100% you know, healthy, you know, there's so many things if Tony didn't, you know, have a hamstring injury and game five or six, you know, there's so many thoughts that go through my head. But you know, like you said, you know, we did a lot of great things, but not enough to win and it's unfortunate."
The Grizzlies despite not being star driven had a very balanced roster. Led by 2013 DPOY Marc Gasol and one of the finest point guards in Mike Conley, Memphis was a solid side.
Against the Warriors they went up 2-1 in the series, but in game 4 there starting shooting guard Tony Allen suffered from a hamstring injury. Without a starter and Mike Conley still not being at 100%, hard luck struck them hard, and ultimately the lack of post-season success.
Can the Warriors make it to the playoffs?
The Golden State Warriors have been pretty inconsistent this season. They haven't won more than two games in a row. It is understandable, given the new look roster. But the Dubs have flashes of being a good team with some all-round performances this season.
The biggest variable for the Dubs is the form of Kelly Oubre Jr. The 6'7 guard, who was brought in to replace Klay Thompson, has been one of the most inconsistent players in the roster. They have been games where he puts up 25 points a game and in some games he ends up scoring 4 points.
ADVERTISEMENT
Article continues below this ad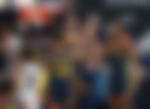 The Warriors will hope that he can bring in consistency to their game. Andrew Wiggins, on the other hand, has been pretty consistent so far, putting up some decent performances defensively and adding at least 15-20 points per game.
The Warriors have been dependent on Steph Curry so far, who has held his end of the bargain. In the 20 games he has played, he has averaged 28.2 points, 6.1 assists and 5.5 rebounds per game.
ADVERTISEMENT
Article continues below this ad
If the other players around him step up, then we surely will see the Golden State Warriors make it to the playoffs this season.