Giannis Antetokounmpo Trade: Possible Package by Golden State Warriors to Acquire the Reigning MVP
Published 09/12/2020, 7:22 PM EDT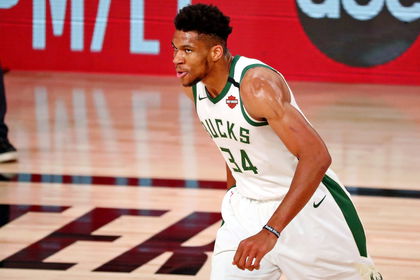 ---
---
Giannis Antetokounmpo had another poor postseason run with the Milwaukee Bucks. The top-seeded team in the East was eliminated in just the second round. Additionally, Giannis struggled throughout the series against the Miami Heat's defense.
ADVERTISEMENT
Article continues below this ad
The Greek Freak might win his second MVP soon, but it seems like his journey as a Bucks player is approaching its end. Many teams are interested in acquiring the reigning MVP if the Bucks are open to talking about a potential trade.
Even if the Bucks do not trade him, there is always a chance Giannis might walk out in the 2021 free agency. For Milwaukee, letting a superstar go without a return could mean trouble. So, they should indeed trade him, if he wants out.
ADVERTISEMENT
Article continues below this ad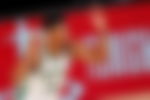 The Golden State Warriors are a possible destination for the Greek Freak. The Warriors have the perfect system for Giannis to thrive in. He will be surrounded by amazing shooters, and will therefore have more lanes to drive to the bucket.
The Warriors themselves are coming off a catastrophic season. They finished dead last in the league, but it awarded them the #2 pick in the 2020 NBA draft. Their top two stars, Steph and Klay, were also out due to injuries. In their absence, it was too much for Draymond Green to carry the team to a respectable record. As a result, the team tanked. They will be hoping for better results next season.
What can the Warriors offer for Giannis Antetokounmpo?
The Warriors are one of the few teams that have the pieces to trade for Giannis. They will have enough cap space to sign Giannis to a bigger deal once his contract expires. The best trade for both the teams would be Giannis in exchange for Draymond Green, Jordan Poole, Eric Paschall, Marquese Chriss, and Ky Bowman.
ADVERTISEMENT
Article continues below this ad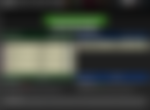 This trade could be fair for both the teams and they won't have to pay too much luxury tax. Furthermore, the Bucks can avoid going into an immediate rebuilding phase with Green and Middleton as the best players.
According to ESPN's trade machine, this trade could help the Warriors add three more wins to their projected win total. However, the Bucks will only lose nine more games from their projected record.
ADVERTISEMENT
Article continues below this ad
What do you think? Will this trade make sense for both teams, or should the Bucks give it another try next season?