Miami Heat Guard Grills Giannis Antetokounmpo and TJ Warren on Instagram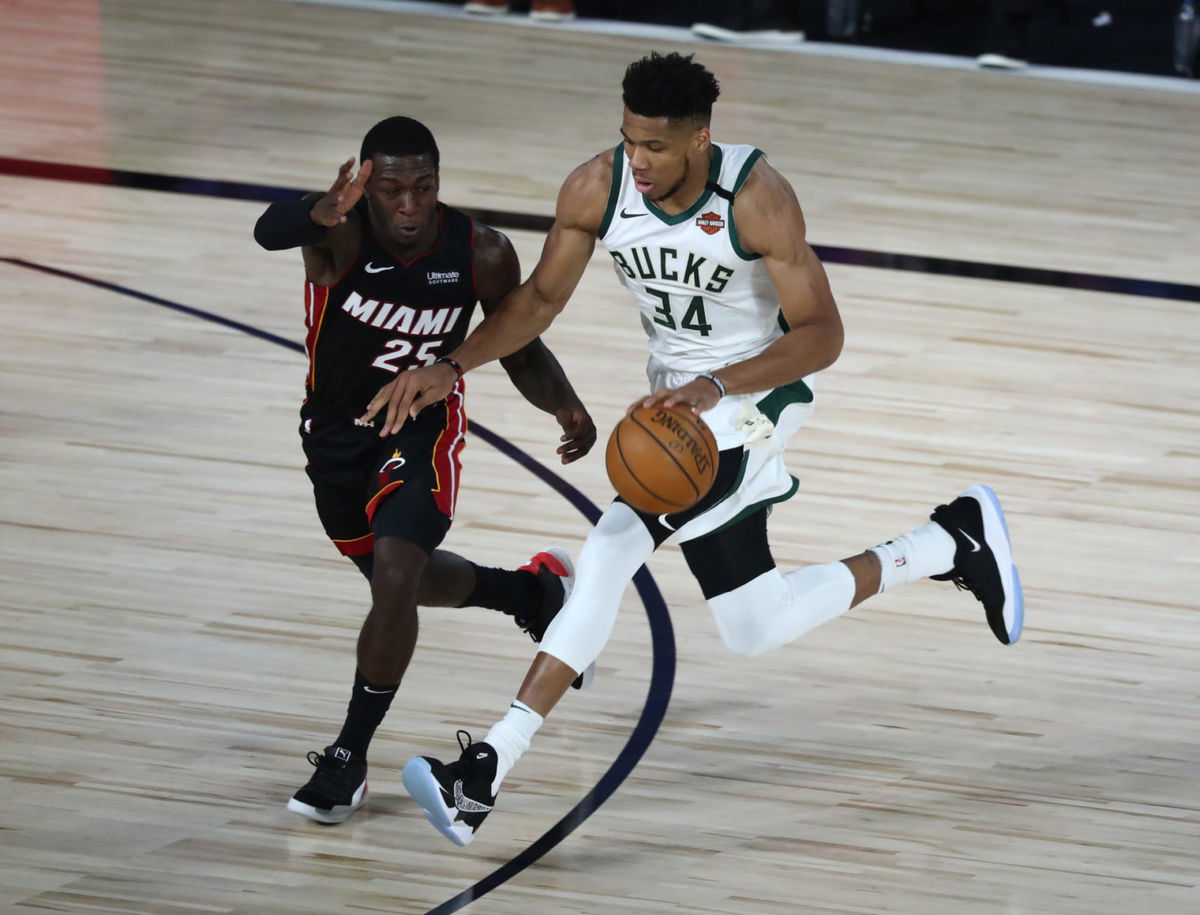 Miami Heat were placed 5th in the Eastern Conference this season. But they have cruised past the #4 seed and the #1 seed to reach the conference final like a league topper. Their key players haven risen to the occasion just when they were most required to.
Among the Miami Heat unit, Jimmy Butler stood out with almost everything that he pulled. From his on-court heated moments to his extraordinary clutch performances, he has been impressive in the post-season so far. Now he is back in news before their game 1 of the conference final against the Boston Celtics.
Miami Heat guard trolled Jimmy's top opponents
Kendrick Nunn designed a hilarious picture to wish Jimmy G. Buckets his 31st birthday. He photoshopped Giannis Antetokounmpo and TJ Warren as Jimmy's babies and wrote, "Ain't know I had 2 nephews bro HBD". 
Kendrick Nunn 💀💀💀 pic.twitter.com/dMePjPH130

— NBA Central (@TheNBACentral) September 14, 2020
Kendrick clearly likes a laugh! Take a look at this tweet from his birthday:
Celebrating @nunnbetter_'s birthday today like…

ayyy, don't stop! 🎶 pic.twitter.com/Z6XE7L9Dl2

— Miami HEAT (@MiamiHEAT) August 3, 2020
The feud between Jimmy Butler and TJ Warren dates back to a January 9 match when they got involved in a nasty scuffle. That incident led to a series of comments that the two guys made in interviews later. Fortunately for Jimmy, the Miami Heat completely overpowered the Indiana Pacers in the post-season and restricted them to a poor average of 100.75 points per game, where they lost them all. Here you can watch Jimmy's on-on-one battle against TJ:
[youtube https://www.youtube.com/watch?v=G0fEo7gBAGc?start=2]
Also, the Heat tied Giannis down and allowed him to score just 21.8 ppg in round 2, which was way below his post-season average of 26.7 and a regular-season average of 29.5. 
The unit has found depth in them!
Guard Kendrick Nunn and forward Bam Adebayo are the young guns who have performed well this season. Bam is a force when it comes to his elite defensive skills and has also been one of the most improved players in the NBA. On the other hand, Nunn has been Rookie of the Month thrice this year. The 25-year-old did not have a very exceptional playoff performance, but his regular-season was good enough to get him an average of 15.3 points.
The Miami Heat are 8-1 in the playoffs and hold very strong chances to send the Celtics home if they continue to play with the same thirst. They will see a big challenge from Jayson Tatum and Jaylen Brown, but they have a great unit with young stars like Tyler Herro and Duncan Robinson performing well.
Sourabh Singh
All work and no play makes Jack a dull boy. I intend to make popularise my quote when I say sports define me better than I define sports. See ya'all Champs!