"This is Not MMA": Former NBA Player Calls For a Severe Punishment For Giannis Antetokounmpo
Published 08/14/2020, 12:32 PM EDT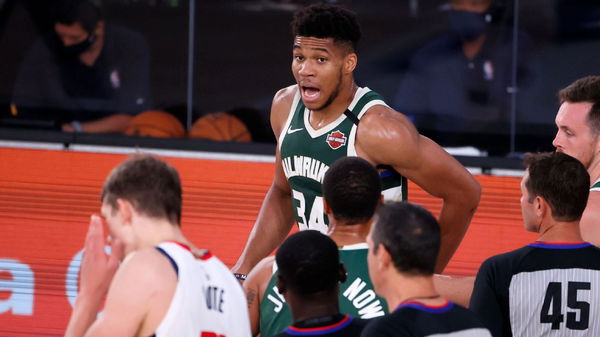 ---
---
Basketball can be very intense and we can see the frustration of players as clear as day at times. Add to this the new circumstances under which players are playing in the Orlando Bubble and the situation is made all the tougher. In Tuesday's match between the Milwaukee Bucks and Washington Wizards, we saw Giannis Antetokounmpo succumb to his emotions. On entering the second quarter, he delivered a headbutt to Moritz Wagner.
ADVERTISEMENT
Article continues below this ad
The reigning MVP was penalized for it and ejected to play the next game against the Memphis Grizzlies. Despite the fact that the suspension was carried out, former NBA player, Kendrick Perkins was highly critical of this incident. He wanted Giannis to be held accountable for his behavior.
Kendrick Perkins thinks it's unfair
ADVERTISEMENT
Article continues below this ad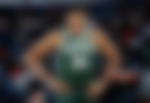 On ESPN's The Jump, Kendrick Perkins took a strong stance against this unseemly occurrence. Rachel Nichols asked Perkins what he thought of the punishment. Perkins said, "Yes, it was unfair. This is not MMA, this is basketball. You cannot be headbutting people. Giannis got star treatment because anybody else would have at least got two-to-three games, right? One game suspension for headbutting somebody? This is professional basketball. I do not think it's fair. One game."
ADVERTISEMENT
Article continues below this ad
It was quite interesting to see Perkins take on this because of his own incidents during his time in the NBA. Rachel recalls Perkins headbutting Tyreke Evans in 2015 for which Perkins had a justification. He said, "My headbutt wasn't, uh, I didn't put that into it. We kinda just bumped heads," Perkins said. "You're talking about me and Tyreke Evans. I remember that because I was trying to protest that that wasn't a headbutt, I didn't deliberately throw a blow."
On the contrary, ESPN's Senior Zach Lowe was not surprised by the decision. He claims that it was at par with the precedent which makes it completely fair. It was quite clear that Giannis was anyways not going to be playing the next game against the Grizzlies, so it hardly made a difference.
Giannis Antetokounmpo apologizes
ADVERTISEMENT
Article continues below this ad
What's great is that the Greek Freak did show his remorse to the media afterward. "Terrible action," Antetokounmpo said regretfully. "If I could go back and turn back time and go back to that play, I wouldn't do it. But at the end of the day, we're all human, we all make mistakes. I think I've done a great job all year, in my career, of keeping my composure and focusing on the game, but like I said, we're human, we make mistakes. But at the end of the day, learn from it, keep playing good basketball and keep moving forward."
Now that Giannis has served his one-day suspension, the Bucks are gearing up to play the Orlando Magic in their first-round matchup of the postseason on Tuesday.