MVP Giannis Antetokounmpo Ready to Commit Long Term With the Bucks
Published 09/19/2020, 1:13 AM EDT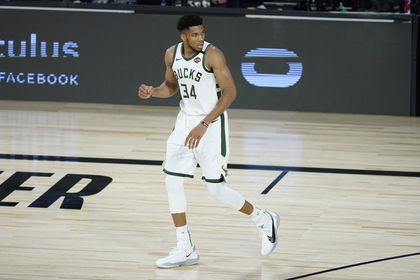 ---
---
The NBA will see a new champion crowned following gigantic disappointments in the semi-finals. In the West, Kawhi Leonard and the Clippers succumbed a 3-1 lead to the Nuggets. While in the East, Giannis Antetokounmpo and the Milwaukee Bucks couldn't overcome Miami.
ADVERTISEMENT
Article continues below this ad
Following the Bucks' elimination from the playoffs, rumors began to emerge that Giannis' journey with the Bucks might be over soon. Although the two-time MVP has denied all rumors, you can never know for sure.
Giannis had an insane regular season averaging breathtaking numbers and led the team to the best record in the league. Unfortunately, the tables turned against the Bucks in the playoffs,. Moreover, losing Giannis could mean a potential rebuild for the franchise.
ADVERTISEMENT
Article continues below this ad
Giannis appeared in an interview with NBA analyst Ernie Johnson, receiving the second MVP of his career. During the interview, he was asked if he plans to stay with the Bucks. To which Giannis replied:
"Obviously, right now I'm just trying to focus on my family…I'm not trying to think it as much about what I'am going to do next…As long as everybody's fighting for the same thing … which is to be a champion, I don't see why not to be in Milwaukee for the next 15 years."
Making a long term commitment to a franchise is obviously difficult for any NBA player. Considering the Bucks' struggles in the postseason over the last two years, any superstar would be tempted to leave the franchise.
But like Giannis said If the franchise is working hard to bring more talent around him. There is no reason for him to leave the franchise hanging. He still has plenty of time to give this situation a thought and make the best decision for his career.
Should Giannis Antetokounmpo commit long term with the Bucks?
ADVERTISEMENT
Article continues below this ad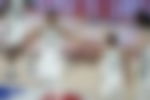 Honestly, the Bucks are potentially a piece or two away from winning an NBA title. Losing Giannis could turn out to be catastrophic for the franchise in the future. On the other hand, Giannis might waste his prime struggling in the playoffs with the Bucks if he does sign a long contract extension.
Moreover, Giannis deserves a little blame for his early playoff exit. As a two-time MVP, Giannis still has visible flaws in his game. If he can develop a consistent jumper in the future, he will be unstoppable.
ADVERTISEMENT
Article continues below this ad
Should Giannis stay with the Bucks or take his talents elsewhere? Regardless of the decision, developing a reliable jumper should be #1 priority for the Greek Freak.