NBA 2020 TV Ratings: Miami Heat Vs Lakers Shine in a Pool of Unsettling Degrowth
Published 10/25/2020, 10:52 PM EDT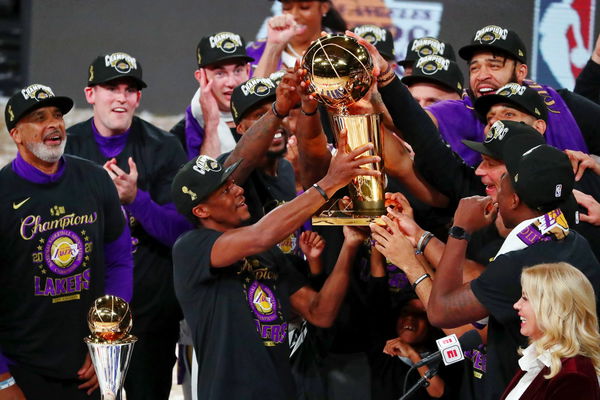 ---
---
The atrocities that the year 2020 brought with it can not be perceived through the traditional lens. The year has been hard on a variety of businesses and the world of sports hasn't been immune to this either, and the NBA was no exception. 
ADVERTISEMENT
Article continues below this ad
The NBA was one of the first organizations to have started functioning after the pandemic brought things to a halt. It was then predicted that fans would welcome the resurrection of sports with open arms. However, the figures have revealed a very different and rather grim story. 
The NBA 2020 TV ratings were far from good
ADVERTISEMENT
Article continues below this ad
The NBA TV ratings for the 2019-20 season obviously had the NBA Finals games in the Top Five. LeBron James' star power must have helped the cause. While it is always good to attract more eyeballs for a closure series, it is always bad if it shows a degrowth YTD [Year to Date]. This was exactly what happened with the NBA Ratings. 
Kevin Durant, who played with the Golden State Warriors until last year, had earlier given his opinion on this issue. He was of the belief that the obsession with statistics is the greatest reason behind the downfall in the ratings. KD put the blame on the sportswriters who would obsess over the analytical side of the game, rather than covering the actual game as it happens. This could have arguably led to the rise of 'highlight culture'. Fans would want to view aggregated stats over investing in a 48-minute game that runs for two hours or so.
This may be a reason and also the obsession over stats and analytics…

— Kevin Durant (@KDTrey5) August 18, 2020
The ratings hit a new low, perhaps due to many other factors
ADVERTISEMENT
Article continues below this ad
When the sports of soccer, basketball, tennis, and others were resuming, a general consensus had been built that people might not tune in amidst the pandemic. The political scenario didn't paint a very good picture either. 
Having said that, one reason can also be that the 'favorites' did not reach deeper in the playoffs as far as the NBA was concerned. Popular teams like the GSW were not invited to the bubble. Adding salt to the wound, franchises like the LA Clippers, Milwaukee Bucks, and Raptors failed to make their mark. 
All of this coupled with various other reasons might have impacted the ratings. Hence, this year's ratings might not show a clear picture and one can't come to the conclusion that fans are losing interest in the NBA.
ADVERTISEMENT
Article continues below this ad
What do you think of this matter?