NBA Bubble Awards: Damian Lillard Wins Bubble MVP; Coach Of The Bubble and All-NBA Teams Also Announced
Published 08/15/2020, 2:44 PM EDT
The NBA has revealed the winners of the bubble awards. After seeing the competitive level of play, especially by teams looking to qualify for the playoffs, the NBA announced that they would hand out seeding game awards. Not only would they announce a seeding games MVP award, but also the best teams and coach of the bubble.
Tim Reynolds revealed the entire list of awards on Twitter. Damian Lillard of the Portland Trailblazers won the MVP award for leading his team to the eighth seed. Monty Williams of the Phoenix Suns won Coach of the Bubble by helping his Phoenix Suns go undefeated in the bubble. However, they still missed out on the playoffs.
The All-Bubble teams were also announced. The first team has Lillard, James Harden, Luka Doncic, Devin Booker, and T.J. Warren. The second team saw Giannis Antetokounmpo, Kawhi Leonard, Caris LeVert, Michael Porter Jr., and Kristaps Porzingis. It is refreshing to see that the NBA didn't force positional requirements on this list and created genuine teams that feature the best of the bubble.
ADVERTISEMENT
Article continues below this ad
Bubble MVP: Damian Lillard.

Coach of the Bubble: Monty Williams.

First-team All-Bubble: Lillard, Harden, Doncic, Booker, Warren.

Second-team All-Bubble: Giannis, Kawhi, LeVert, Porter Jr., Porzingis

— Tim Reynolds (@ByTimReynolds) August 15, 2020
NBA awards snub?
ADVERTISEMENT
Article continues below this ad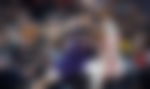 It is hard to name anyone that could have been in contention for these awards that didn't deserve it. First, the sample size is so small that it is hard to have a lot of contrarian opinions. Most performances are in recent memory and easy to vote for, unlike normal regular season awards.
The bubble MVP race was interesting, but Lillard locked it up after his final three games. There were rumblings for T.J. Warren, who had an explosive start to the bubble, but he missed his final two games. Devin Booker went undefeated in the bubble, but it would have been hard to award him the trophy over Lillard who actually made it into the play-in game. Harden and Doncic had gotten into the groove of things and put up tremendous stats, but their teams didn't have the best records. Lillard averaged 37.6 points and 9.6 assists to get the MVP award, comfortably the best averages in the bubble.
ADVERTISEMENT
Article continues below this ad
The emergence of players like Caris LeVert and Michael Porter Jr. bodes well for the future of the league. Kristaps Porzingis has returned to his pre-injury form, while Luka Doncic has threatened to put up some of the scariest stat lines in modern basketball. Kawhi and Giannis had strong campaigns, but evidently weren't trying their best.
These awards don't mean much in the grand scheme of things, but it is great that the NBA has recognized these talents.