NBA Playoffs: Los Angeles Lakers vs Denver Nuggets Game 5 Injury Updates, Lineup and Predictions
Published 09/26/2020, 5:30 PM EDT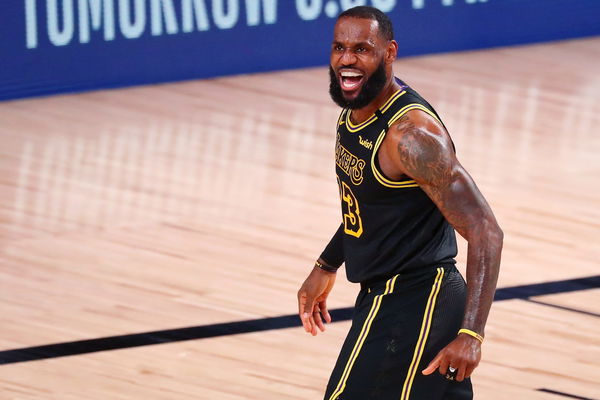 ---
---
The Los Angeles Lakers have once again been presented an opportunity to eliminate their contender in Game 5 itself. With a 3-1 deficit, there is no way the Nuggets can come back from this.
ADVERTISEMENT
Article continues below this ad
Wait, no, we can't be forgetting the Nuggets' record so far. We should know better by now and not count them out till we hear the blaring of the final buzzer. On the brink of elimination, will the Nuggets make their third consecutive comeback?
Los Angeles Lakers injury update and lineup predictions
ADVERTISEMENT
Article continues below this ad
Entering Game 4, the Lakers set the tone quite early thanks to Dwight Howard. They were doing exceptionally well on both ends of the court, and having veteran players like Rajon Rondo and Danny Green proved to be very beneficial.
If these players keep contributing to the scoreboard, other than just LeBron James and Anthony Davis, the Lakers won't end up struggling towards the end.
LeBron played some of his best defense in the previous game. He also chipped in 26 points, 9 rebounds, and 8 assists. The baby GOAT enjoyed another fantastic run. He bagged 34 points and the Nuggets couldn't contain him at all.
Unfortunately, Davis suffered an ankle twist during the second quarter. Yet he continued playing, however, in a bid to avoid a long-term injury, Davis was listed probable for Game 5.
Not only that, but it looks like they've plagued by injuries. Danny Green, LeBron James, and Alex Caruso are also listed as questionable. This could be worrying because they would need all their players in the best of health to fight the unpredictable Nuggets.
For now, the predicted lineup consists of LeBron James, Kentavious Caldwell-Pope, Danny Green, Anthony Davis, and Dwight Howard.
Denver Nuggets injury update and lineup predictions
The Nuggets haven't overcome 3-1 deficits twice in this series to go home and dwell on what could have been. Although their defeats have been very close, they need more aggression if they hope to go over the dominant Lakers.
ADVERTISEMENT
Article continues below this ad
Their stellar offensive record can be credited to the star-studded duo of Jamal Murray and Nikola Jokic. Murray is being considered as the hottest player in the bubble right now and for all the right reasons.
The Serbian was a little dry and needs to buckle up if they want to stay alive in the series. The team's responsibility falls on both of their shoulders and they have to pull another miraculous upset. Only Vlatko Cancar and Will Barton are out for the remaining season.
Keeping that in mind, the predicted lineup would be Gary Harris, Jamal Murray, Jerami Grant, Paul Millsap, and Nikola Jokic.
ADVERTISEMENT
Article continues below this ad
Game predictions
The Nuggets may be standing on familiar ground, but the Lakers are not the Clippers. They will not let this game go beyond what's necessary and are most likely expected to be plant themselves firmly in the NBA Finals.