NBA Teams Closing All Training Facilities Amid League Suspension
Published 03/20/2020, 3:01 AM EDT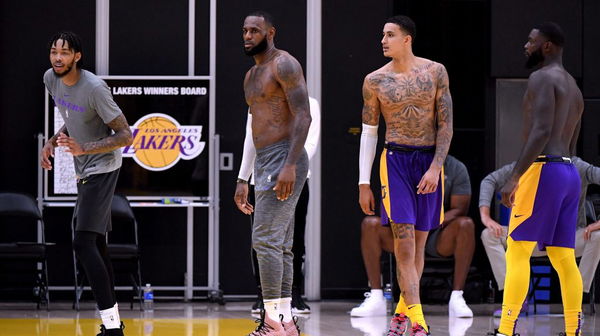 ---
---
NBA has told all the league teams to close their respective training centers for players immediately. This decision was inevitable, considering the Coronavirus pandemic. According to ESPN's Adrian Wojnarowski, the league in general and the teams in particular were uneasy about close contact in the limited-environment training centers, which led to this decision.
ADVERTISEMENT
Article continues below this ad
Teams had been encourging of idea of shuttering faciltiies for immediate future. As much as franchises wanted players to have an outlet to come get work in, teams and league were uneasy about contact even in that limited environment. This was an inevitable move for a long hiatus.

— Adrian Wojnarowski (@wojespn) March 19, 2020
ADVERTISEMENT
Article continues below this ad
Teams have further been advised to practice individually, or to follow the 'one basket, one player, one coach' rule. But now, seeing the spread of the disease the NBA has decided to shut all the training facilities.
NBA is taking no chances with players
According to ESPN's Tim Bontemps, NBA followed the decision to shut all training facilities with banning all kinds of workouts for players. No league player can use public health clubs, gyms, fitness centers or other crowded spaces.
Not only are practice facilities closed to players beginning tomorrow, per today's memo, but they remain prohibited from using public health clubs, fitness centers, gyms, college facilities, or the like. In effect: the NBA's players can't work out anywhere.

— Tim Bontemps (@TimBontemps) March 19, 2020
ADVERTISEMENT
Article continues below this ad
That is to say, the list of people affected by the coronavirus in the NBA is on the steady increase since the first case of Rudy Gobert. Devon Mitchell of Utah Jazz was the second one to test positive. Following him was Christian Wood, one member of Nugget' and Boston Celtics' Marcus Smart. Later Kevin Durant and three other Brooklyn Nets players also joined this ill-fated list with two Lakers players. The latest addition to this list are 3 members from the Philadelphia 76ers organization.
League has also recommended that players "should take aggressive measures to avoid contact with others and remain home as much as possible, leaving only for essential activities." The NBA described those activities as "buying food, medicine, or other necessary supplies; obtaining critical medical services; providing necessary care for a family member in another household; or attending to some other emergency."
ADVERTISEMENT
Article continues below this ad
With the increase in cases inside the NBA, it is looking just not possible for Adam Silver & Co. to go on with this season. For time being, it's just 'wait & see' situation for people around the league.