NBA Trade Rumors: Boston Celtics to Trade Up for Landing Isaac Okoro in 2020 Draft
Published 11/16/2020, 6:30 AM EST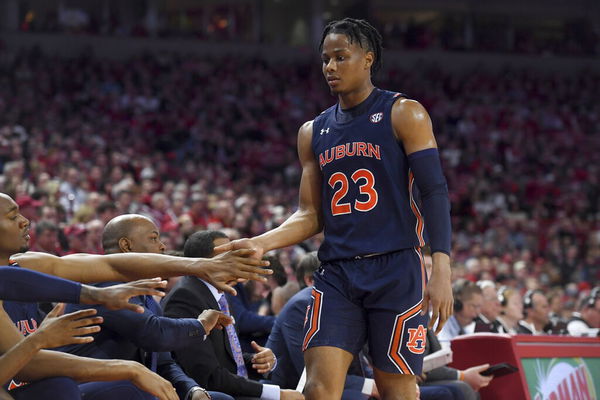 The Boston Celtics had a balanced 2019-20 season where they achieved exactly what was expected of them. They reached the EC finals with a young and dynamic roster. Still, the Greens now stand next to three first-round picks in the NBA off-season.
The average age of their starting five (from the last game against Heat) was just 26 years. If they do not trade their draft picks, the Cs might as well climb up to become one of the youngest sides in 2021. However, it now appears that they have a change in plan for signing a better talent in Isaac Okoro.
The Boston Celtics can package their picks for Okoro
ADVERTISEMENT
Article continues below this ad
A recent rumor from an authentic source suggested that the Celtics are planning on moving up the draft to pick Isaac.
Auburn's Isaac Okoro plays from the wing position and has some impressive college stats to his name. He averaged 12.9 points at 51.4% from the field. He is a 6'6", 220 lbs, confident player who has great defense work. His jump shots have been an issue, but that can surely be bettered with an elite level team to support and inspire his game. 
Isaac is the most ready to contribute on Day One prospect in the draft! Mentally, physically, character and culture he checks every box. Defense and Rebounding win championships! @NBAonTNT https://t.co/cDJDy4DgFy

— Bruce Pearl (@coachbrucepearl) October 4, 2020
Now, here is the twist in the tale. The teams with higher draft picks will most likely pick Isaac anywhere between 4th till 8th. Hence, the Celtics will have to probably package all their draft picks to land him. 
ADVERTISEMENT
Article continues below this ad
Do the Celtics really need him?
The Cs were #5 in their offensive ratings and #4 in the defensive ratings in 2020. They already have Jayson Tatum and Jaylen Brown, who are all capable of delivering at the same position where Isaac plays. Instead, they can eye a center prospect like Precious Achiuwa who can strengthen their core. 
ADVERTISEMENT
Article continues below this ad
Apart from this, they are already in talks with the Pelicans to Get Jrue Holiday in return for Gordon Hayward, #14, #26, and #30 picks. They can even have a 3-team deal, which will add the New York Knicks to the equation. 
All these are real possibilities ahead of the off-season that can reveal to the fans the mindset with which Danny Ainge's franchise will move ahead.