NBA Trade Rumors: Golden State Warriors Interested in Acquiring Phoenix Suns' Guard
Published 10/30/2020, 6:15 PM EDT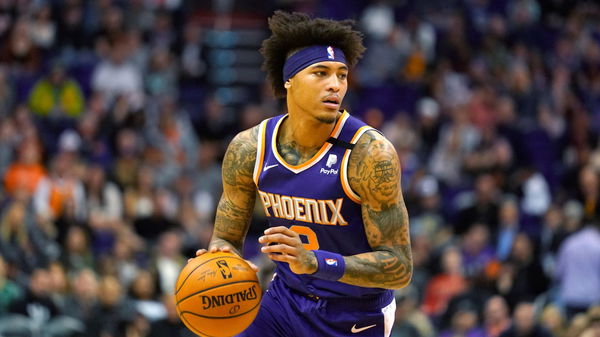 After posting one of the worst regular-season records in NBA history, the Golden State Warriors received the #2 overall pick in the 2020 NBA Draft. There are massive speculations regarding the potential candidate, but the team might not be looking to draft a Top 3 prospect after all. How would a sensational trade deal with the Phoenix Suns look like? 
Yes, there is a real possibility for it to happen. If the Golden State Warriors aren't satisfied with using their #2 pick in the upcoming draft, they might trade it to the Suns. They receive Kelly Oubre Jr. and the Suns' tenth pick instead. 
This notion emerged after the Warriors' growing interest in Kelly Oubre surfaced all over the media. But who put forth news about the Warriors pursuing Oubre? The credit here goes to ESPN's Nick Friedell, who spilled out the idea on a recent episode of 'The Jump.'
ADVERTISEMENT
Article continues below this ad
"The name that keeps popping up when you talk to people is Kelly Oubre," Friedell said. "Can they get him in? What would they have to give up? They have the trade exception for Andre Iguodala as well that expires here in a little bit."
While Nick Friedell listed out using a sum from the huge $17.2 million trade exception the Warriors received from Andre Iguodala's trade, there arose an alternate possibility. What if they went down the draft order in exchange for the promising Kelly Oubre?
Should the Golden State Warriors move down the draft order? 
How good does this possibility seem? Will it be a wise move if the Warriors hand over their #2 pick, get Oubre, and the #10 pick in return?
As crazy as it sounds, Anthony Slater, a Warriors beat writer, has put forth the plausible scenario on how it would work out for the team. 
ADVERTISEMENT
Article continues below this ad
"This gives the win-now Warriors an immediate rotation boost on the wing, where they're desperate, and still a shot at a prospect in the back side of the lottery." Slater mentioned.
Furthermore, the Suns will see Kelly Oubre's contract end with the upcoming season. The New Orleans native will become an unrestricted free agent soon after. This is certainly a move that will raise a few eyebrows, especially in the Bay Area. 
ADVERTISEMENT
Article continues below this ad
The Golden State Warriors have received the #2 pick for the first time in 55 years. In fact, they were then called the San Franciso Warriors when Rick Barry went as the second pick in the 1965 NBA Draft. 
The Warriors might be keen on picking up any one of the Top 3 draft prospects this year. Moreover, Head Coach Steve Kerr stated he does not want to move down the pecking order, but put the pick to optimal use. Things are indeed going to be interesting when the 2020 Virtual NBA Draft kicks off on November 18!