NBA Trade Rumors: Why Los Angeles Lakers' Pursuit of DeMar DeRozan Makes Perfect Sense
Published 11/14/2020, 2:03 PM EST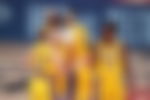 ---
---
The biggest goal for a team winning a title should be to get stronger for the next season. So the Los Angeles Lakers are looking to do the same. After winning the 2020 NBA title, they are now rumored to be interested in trading for DeMar DeRozan. If this trade takes place, Danny Green and Kyle Kuzma will be headed to the Spurs in return.
ADVERTISEMENT
Article continues below this ad
👀 @DeMar_DeRozan was on with @Matt_Barnes22 & @DaTrillStak5 on the #ALLTHESMOKE Podcast talking about the Lakers trade rumors. #LakeShow pic.twitter.com/jNlpjLbuJG

— ShowtimeForum (@ShowtimeForum) November 13, 2020

The LA native DeRozan recently reacted to these rumors, and he definitely seemed interested. He said, "Me being from L.A., it's like 'damn, my hometown team want me? They just came off a championship and they want me?' It's definitely crazy to be able to see that."
ADVERTISEMENT
Article continues below this ad
In the 2019-20 season, DeRozan averaged 22.1 points, 5.5 rebounds, and 5.6 assists, showcasing his ability to not only score but also distribute the ball effectively. The two biggest concerns about his game are his inability to shoot threes and his lack of defense. So many feel it isn't ideal for him to go to the Lakers who need shooters.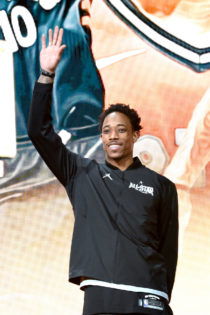 What will DeMar DeRozan add to the team?
For the last seven seasons, DeMar has been averaging over 20 points per game, and he is still improving when it comes to efficiency. Last season he shot an impressive 53% from the field, which was a new career-high for him. So although they are giving up Kuzma and Green, they are getting back a certified bucket in DeRozan.
In the last two seasons, he has strengthened his game and has become a capable shot-creator too. So except for outside shooting, DeMar is a complete package on the offense. Although he has always been the first or second scoring option so far, having him as the third option behind LeBron James and Anthony Davis, will be a luxury for the Lakers.
As the other teams get stronger, getting DeMar on board will be a huge step for them in moving towards a successive title.
So should the Lakers pull the trigger on this trade?
Although it sounds good, it is easier said than done. The Lakers are dealing with the Spurs who are one of their rivals. So they will not be let off easily. The Spurs will pressurize them to pay the most, so it is up to the Lakers to see how much they are willing to give up for a potential one-year rental, who could probably win them a title.
ADVERTISEMENT
Article continues below this ad
While there is no doubt that he will help the team, a trade for someone who has three-point shooting in their arsenal will help the team more. It will push Davis more towards the paint, where he can dominate the opposition. It will also ease the burden on LeBron who is a career 34% shooter from deep.
The Lakers could be brewing up something big this off-season, fans will be excited.
ADVERTISEMENT
Article continues below this ad