"Never Would Have Pictured That": Ex-Warriors Player on Klay Thompson's Cheerful Trip to China
Published 09/19/2020, 2:48 PM EDT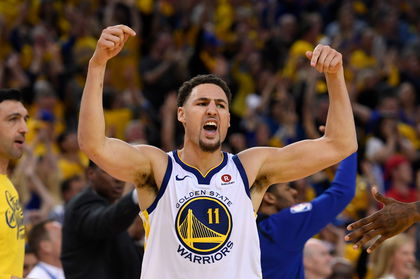 ---
---
Three-time NBA champion Klay Thompson is one of the best shooters in NBA history. He stunned everyone in 2014 when he chose the Chinese brand 'Anta' over Nike and Adidas as his official sneaker endorser. And thus, 'China Klay' was born! 
ADVERTISEMENT
Article continues below this ad
Klay's contract with Anta is one of the most lucrative shoe deals in the league at the moment. However, Klay was a Nike guy when he initially started out in the league.
But he decided to switch brands and found Anta to suit his liking. He recently put pen to paper to bolt a 10-year-long extension down, after signing with Anta six years ago. He is reported to earn $80 million from the contract. 
ADVERTISEMENT
Article continues below this ad
Back in 2018, Klay Thompson visited China for a promotional event and stole all the limelight. Anta certainly did the Chinese NBA fans a favor by bringing one of the most famous basketball players to their country. 
During his visit, Klay had a blast in China, gorging on their food and displaying his basketball skills to avid fans. Klay got a hand on everything he could during his trip to China and visibly looked like he was enjoying himself to the maximum extent. 
And just like that, #ChinaKlay stormed the internet! This hashtag trended all over twitter, which led to more people talking about his sneaker deal and the visit to China. 
Ex-Warriors player comments on Klay Thompson and his viral visit to China
With his Anta deal, Klay Thompson has just established himself as a fan favorite in China. He lived up to the hype by treating the fans to a good time during his visit. Were his teammates surprised to see Klay having the time of his life in China? No, not at all. 
Shaun Livingston, who was a part of the Warriors from 2014 to 19, gave his verdict on how jovial Klay really is. In a recent appearance on the Runnin' Plays podcast, Livingston mentioned how Klay is a "free spirit."
ADVERTISEMENT
Article continues below this ad
 "We all have those friends that tick to their drum, and you don't want them to tick to anybody else's drum. Stick to your drum. "And that's Klay. He does it well and better than anybody. I love him for that," Livingston said.
In addition, Shaun Livingston mentioned how he was actually surprised to look at a cheerful Klay Thompson in China. "The 'China Klay' (thing) — that's amazing. I never would have pictured that. But, you see it, and you're like, 'That's Klay'."
ADVERTISEMENT
Article continues below this ad
Klay missed out on the entire 2019/20 NBA season, due to injury rehab. However, we'll see him back next season in his dazzling Anta shoes, shooting three-pointers like its nobody's business!