"Not Blowing Up": Houston Rockets Owner Announces Big News on James Harden and Russell Westbrook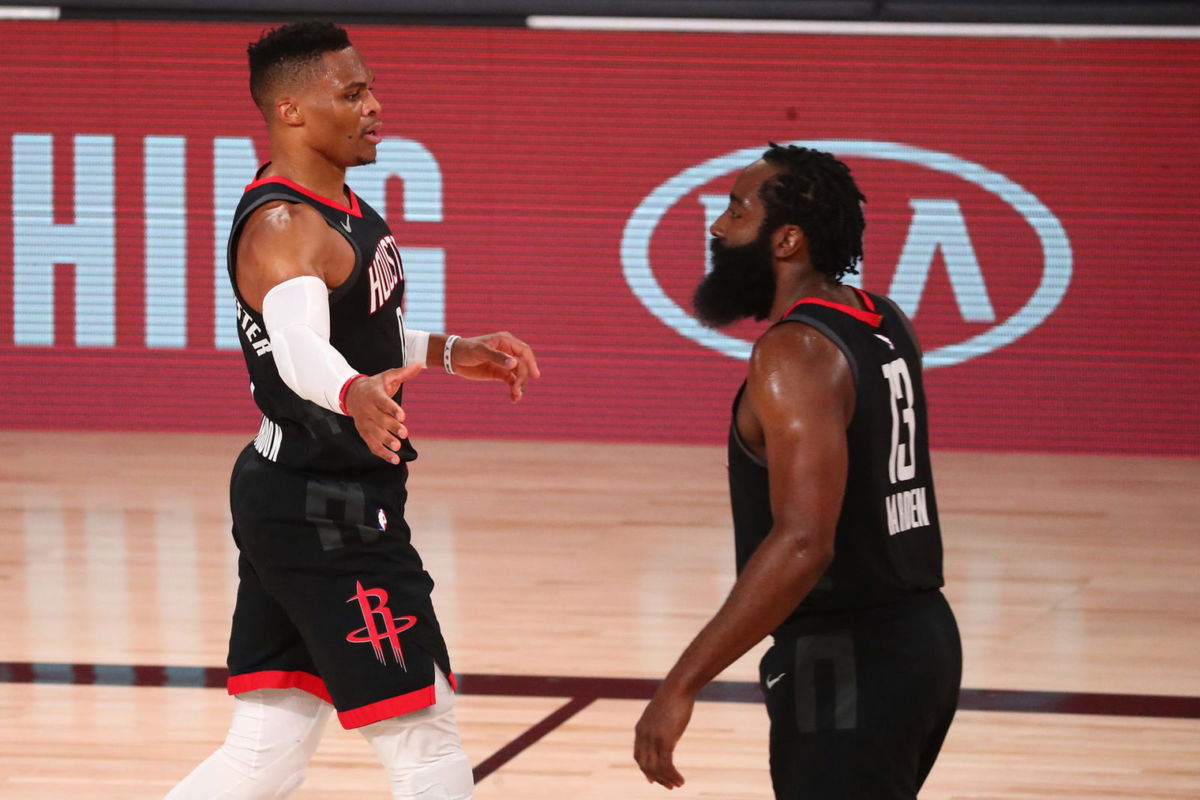 The Houston Rockets seem to possess a double-edged sword in their arsenal. They have a fat percentage of their salary cap going into the accounts of James Harden and Russell Westbrook. The duo was good enough in the regular-season to get them the #4 seed. But they were poor enough in the post-season to enter Game 7 against the Thunder and lose 1-4 against the Lakers.
The Rockets have blown away many 1st-round draft picks in recent years and the trend continues. Daryl Morey, who is now stepping down as the GM of Rockets, has always chosen unconventional ways to design the roster. It now seems that the DNA of the organization is here to stay after a recent comment from the team's owner.
The Houston Rockets fans can expect the same leaders in 2020-21
In a recent interview, Tilman Fertitta accepted, "You have James Harden and Russell Westbrook and you have almost 90 percent of your salaries tied up in them and Eric Gordon." He added, "But anytime you have players like Eric, P.J. (Tucker), James and Russell, there's no reason to blow up your roster."
If Tilman is to be believed, the Rockets are going to stick to their plans and not let the recent losses hinder their intentions.
Rockets owner Tilman Fetitta on CNBC: "There is no reason to blow up your roster. This is still our window, the next couple of years. James and Russell are in their early 30s. We're not blowing up anything. We plan on contending. We're going to do whatever we had to do to win."

— Jonathan Feigen (@Jonathan_Feigen) October 20, 2020
The 63-YO team owner also added a perspective, suggesting, "I always said you want to set yourself up to be one of the top four teams in your conference each year and then it takes a little luck to win. You look at every year, it always takes a little luck."
Now, one thing is more than clear, that the Rockets will not trade James Harden, not at least for the upcoming seasons. But these comments about Russ can definitely raise some eyebrows.
James Harden and Russell Westbrook: Asset or liability?
Both the stars have a guaranteed salary of $40 million+. This takes a huge chuck from the Rockets' salary cap and leaves them with a very slim budget to get creative in trades. Over $123 million of the guaranteed money goes to just six players in their roster. If the luxury tax line stays at the $132.6 million mark, the chances of the Rockets paying a luxury tax will be higher than ever.
If they're interested in signing the likes of Joel Embiid from the Sixers, they've got to be willing to give up, at least on Russ. 
Harden and Russ are both 31-year-olds. While Harden's figures can still be trusted, Russell's sheen is fading away. Is he still the triple-double averaging candidate that he once was for the OKC? This is an important question for the Rockets to answer before making the next move.
Get notified about breaking news and watch highlights on the go; join the Arena on NBA Hoops
Sourabh Singh
All work and no play makes Jack a dull boy. I intend to make popularise my quote when I say sports define me better than I define sports. See ya'all Champs!