"Not Only on the Basketball Side": Former Celtics Star Finds a Unique Way to Pick Between LeBron James & Michael Jordan
Published 06/04/2020, 5:30 AM EDT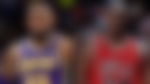 ---
---
Former Boston Celtics player Cedric Maxwell looked at a different dimension for choosing the Greatest of All Time (GOAT) between LeBron James and Michael Jordan.
ADVERTISEMENT
Article continues below this ad
For years now, it has been a debate that doesn't yield an answer. Perhaps the greatest of the players is such that it is difficult to pick one based on their on-court excellence. Maxwell considered more than just basketball while explaining his GOAT selection.
Maxwell picked LeBron James over Michael Jordan
ADVERTISEMENT
Article continues below this ad
Talking on the NBC Sports Boston's "Arbella Early Edition," he put James ahead of Jordan due to the former's involvement in many fights against social issues.
"LeBron James is the GOAT now," Maxwell said (H/T NBC Sports). "He's the GOAT because, not only on the basketball side, but social issues: He's been involved in every social issue that we look at.
"When somebody says, 'Shut up and dribble' — LeBron James has put his money where his mouth is, and that to me resonates. That's why I think more of our players and more NBA people need to step up and find that same courage."
James' stance over the death of George Floyd is the most recent example of his rising voice against social issues. Since the death of Floyd, James has put up multiple posts on social media condemning racial discrimination. He also has a history of fighting against many such incidents in the past.
Jordan, on the other hand, has been criticized many times for his silence on these issues. His statement on Floyd's death was one of the rare occasions of Jordan talking publicly on such issues.
ADVERTISEMENT
Article continues below this ad
While selecting James ahead of Jordan, Maxwell said the latter usually puts emphasis on his commercial commitments. He talked about how his Jordan brand shoes were sold amidst the pandemic.
"During this pandemic, Georgia opened up, and there was a shoe store that dropped Jordan's shoes during that time," Maxwell said. "And it showed all these kids with no masks on (trying to buy Jordan's shoes). Did Nike need that kind of publicity? Did Jordan need that kind of publicity?"
Maxwell is a two-time NBA Champion with Boston Celtics winning titles in 1981 and 1984.
ADVERTISEMENT
Article continues below this ad