'Number 45 is Not Number 23'- Nick Anderson Makes Major Revelation About His Infamous Comments Against Michael Jordan
Published 12/02/2020, 4:00 PM EST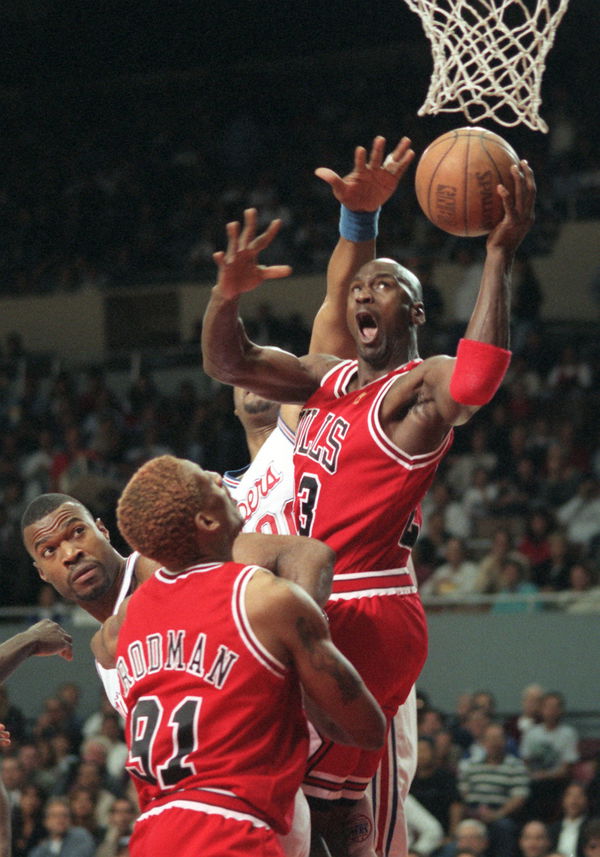 ---
---
Michael Jordan came back from his first retirement in 1995 and powered the Chicago Bulls into the Playoffs. However, a rusty Jordan made his return wearing the #45 and briefly ignored #23.
ADVERTISEMENT
Article continues below this ad
But thanks to 'The Last Dance,' we got to know what pushed 'His Airness' to switch back to his iconic number. The Bulls took on the sparkling Orlando Magic team led by Shaquille O'Neal and Penny Hardaway in the 2nd round.
Jordan was just a few games into his comeback when Magic's Nick Anderson sharply stole the ball from him and passed it to Horace Grant for an electric move during Game 1. 
ADVERTISEMENT
Article continues below this ad
Now it didn't mean a lot during the game, but afterward, it was pointed out that Anderson taunted Jordan by saying, "Number 45 doesn't explode like number 23 used to. Number 45 is not number 23. I couldn't have done that to number 23."
Anderson's alleged quotes played their part in fueling Michael Jordan to ditch #45 and don his iconic #23 after Game 1. It was like his iconic number reinvigorated him, bolstering his performances soon enough.
After a scoring slump in the first game, MJ roared back with a 38.0 point performance and shot 56.7% from the field. Switching back to #23 undoubtedly gave Jordan the motivation he needed. The Bulls guard did not mind paying a $25,000 fine for his actions. 
Nick Anderson's quotes against Michael Jordan were misinterpreted
The 52-year-old Nick Anderson would have certainly watched 'The Last Dance' which depicts the infamous segment. He uttered the words after Game 1 and the docuseries put it back into highlight through a dramatic recap. 
However, the former Orlando Magic player recently sat down for a chat with Brandon Scoop B' Robinson on the 'Scoop B Radio podcast' where he broke the ice on what was really said after the game. 
"I was just answering a question," Anderson told on the podcast. "I don't know how many games it was that MJ only had played, I think it wasn't that many.
"And of course, I had a full season. He didn't have a full season. So he didn't have his legs like anybody else would," he explained. 
"The question was taken out of context. But, they took [it] as though I was saying, 'Number 45 can't play like 23.' That was said, that's how it was taken, so I had to live with it." 
ADVERTISEMENT
Article continues below this ad Since "it was already out there," Anderson didn't attempt to take back what he said. He knew it was made out to look like an overt jab at His Airness; however, the Chicago native assured everyone that there was "no ill intent" in his statement.
Though Michael Jordan never publicly commented if Anderson's comments motivated him to switch numbers, the latter believes that is indeed the case. "Oh yeah, he did," Anderson told on the Scoop B Radio podcast. 
ADVERTISEMENT
Article continues below this ad
The Bulls, unfortunately, fell short and were outplayed by the Magic in that series. Number 23 endured a rough comeback in 1995, but we all know what happened in the subsequent years!