"Take the Ball From Him": Former Teammate Recalls When Kevin Durant Had to Be Stopped From Working Out Too Much
Published 07/03/2020, 10:52 AM EDT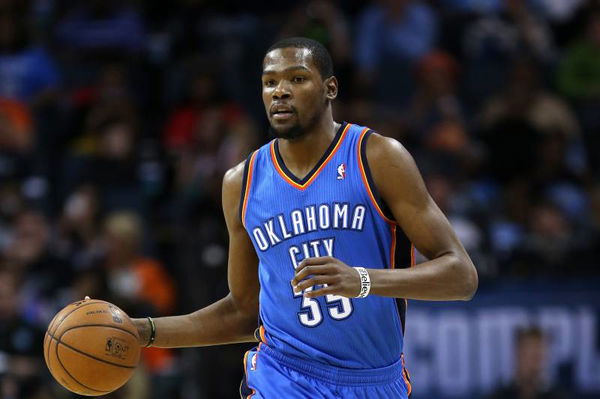 ---
---
NBA friendships are a wholesome thing to watch. However, that relationship has way more meaning when players watch their short-term teammates grow into stars, and still have their backs. Recently, we came across an interview wherein former OkC player Etan Thomas talked about his old teammate Kevin Durant. And we must say, KD sure left his mark on this teammate.
ADVERTISEMENT
Article continues below this ad
When Kevin Durant had to be asked to stop working out
The NBA community is well aware of Kevin Durant's stardom. The 31-year-old is entering his veteran years as he recovers from an Achilles tendon injury. Yet, he is still considered one of the best players around the league.
ADVERTISEMENT
Article continues below this ad
KD was a highschool basketball star. However, he really made his mark in the NBA when he became an All-Star during the 2009-10 season, and later on became an MVP during the 2013-14 season.
Back in April, former Oklahoma City Thunder teammate Etan Thomas had an interview with Mikey Domagala of the sports media company called NBA Buzz. Amongst Michael Jordan stories, Thomas recalled the one time he watched Kevin Durant work out and get asked to stop .
"I just told a story about watching Kevin Durant work out. And watching that he's the only player that I ever saw where a coach said to him, 'that's enough, go home. Stop working out. Take the ball from him.'
"I've never seen that happen before. I literally saw Scott Brooks tell him to go home, one time after he was working. That's how hard he was working out. That was like amazing."
Talking about how no one sees how much hard work goes into becoming as good as KD is, Thomas continued,
ADVERTISEMENT
Article continues below this ad
"He's that good for a reason. You know a lot of times, people see people, and they see the finished product. But they don't know what it has, what it takes to get them there."
ADVERTISEMENT
Article continues below this ad
Well, KD sure worked himself up to a standard. We're just waiting to watch what comes next for him after he recovers from his injuries. Hoping that happens soon.