One Insane Stat Which Proves the Greatness of LeBron James
Published 05/27/2020, 9:07 AM EDT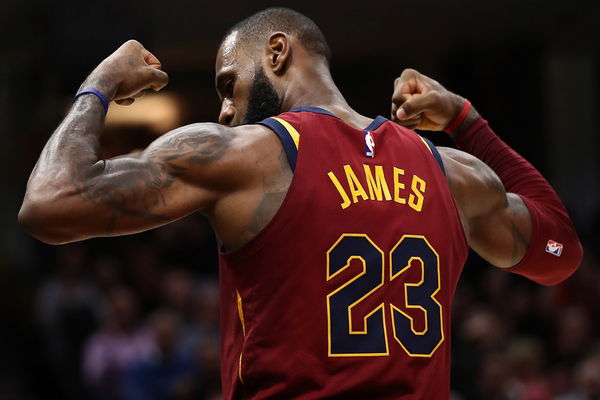 ---
---
When LeBron James tweeted "playoff mode activated" in February last year, it became a mockery. The Lakers finished with a record of 37-45, as the Lakers finished as the 10 seed. LeBron missed out on the playoffs for the first time since 2005. This incident hurt his playoff LeBron image but you simply cannot disrespect him.
ADVERTISEMENT
Article continues below this ad
Since 2004, LeBron has amassed 6911 playoff points, which is more than 10 teams in the NBA. Imagine scoring more than 1/3 of the whole league and still being disrespected. He is #1 in all-time playoff points almost 3000 ahead of the next active player on the list (Kevin Durant– 4032 points). He averages 28.9 points, 8.9 rebounds, 7.1 assists, 1.8 steals, and even 1 block per game in the playoffs. That is the definition of all-round.
 

View this post on Instagram

 
ADVERTISEMENT
Article continues below this ad
How good is playoff LeBron James?
ADVERTISEMENT
Article continues below this ad
No matter the end result, reaching the Finals for eight consecutive years is a phenomenal achievement. His finals record of 3-6 is a bit harsh on someone who gives it all on the court, especially during the playoffs. Critics are always ready to bash him on the smallest of errors, but he continues to prove them wrong.
Down 3-1 against the Warriors, nobody gave the Cavs a chance in 2016. 32-0 was the record of teams who were 3-1 up in a Finals series. This Warriors team had just come off the best regular-season performance as they finished with a record of 73-9. The Cavs did the unthinkable as they came from behind to win 4-3 as LeBron delivered at the biggest stage. With 27 points, 11 rebounds, and 11 assists in Game 7, LeBron sealed his status as one of the all-time greats. His chase-down block on Andre Iguodala will be remembered as one of the most iconic moments in NBA history.
ADVERTISEMENT
Article continues below this ad
When Ray Allen made the three-pointer off the pass from Chris Bosh, people forget that it was LeBron who had carried them in that game up to that point. He finished with 32 points, 11 rebounds, 10 assists, and helped the Heat to go to game 7 against the Spurs and then seal the title.
It's easy to trash him for the 3-6 record, but it is immature to dwell on that. We should instead appreciate the greatness of one of the best players of all time. If the NBA season resumes directly to the playoffs, it is going to be a joy to watch LeBron James who's now playing with arguably one of the best teammates he's ever had.