Jazz Star Donovan Mitchell Breaks Records By Michael Jordan, Allen Iverson and Karl Malone During Loss To Denver Nuggets
Published 08/17/2020, 5:10 PM EDT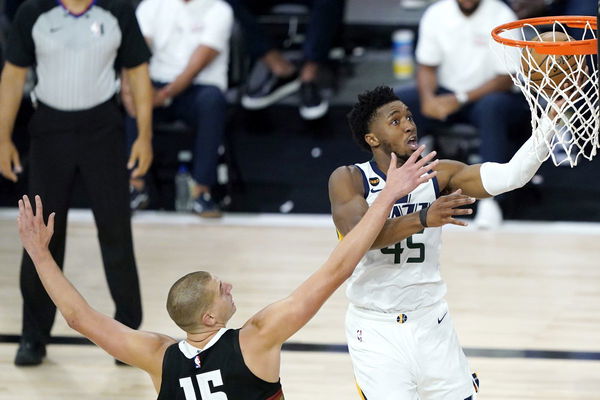 ---
---
The Utah Jazz fell to Denver Nuggets 125-135 in the first game of the 2020 NBA playoffs. The Jazz came into the game without their starting point guard, Mike Conley. So right from the start, young star Donovan Mitchell was expected to make up for this absence. And he did his best. Although his mammoth 57 point game wasn't enough to deliver the win, he could break a few records.
ADVERTISEMENT
Article continues below this ad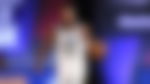 He scored the most points by a Jazz player in playoffs, the previous record being 50 by Karl Malone. He also became the youngest player to score 50+ in a playoff game since Michael Jordan scored 63 against the Celtics, who was also 23 at that time. Finally, this was the first 50-point game in an NBA playoff opener since Allen Iverson did it back in 2003.
ADVERTISEMENT
Article continues below this ad
Even opposition player Jamal Murray was amazed by this performance when he learned Mitchell put up 57.
Donovan Mitchell: Dazzling and daring
At 6'1″, Mitchell is one of the shortest players whenever he steps foot on the court. But he uses it as an advantage and is unafraid to go at even the biggest defenders in the paint. With his small frame and unparalleled athleticism, he wriggles through defenses and drives to the rim. He can not only make the toughest layups but also finish strongly.
ADVERTISEMENT
Article continues below this ad
But layups and dunks are not the only weapons in his arsenal. He is able to create space with his shifty handles and can also pull out the stepback out of nowhere. Finally, his ability to shoot from deep makes him the complete package on the offense.
ADVERTISEMENT
Article continues below this ad
Despite Mitchell's heroics, the Jaz fell short. Apart from Mitchell and Joe Ingles, no one else could shoot above 33% from three. The team went 16-47 from three, at a poor 34% conversion rate. On the other hand, their poor perimeter defending led to the Nuggets making 22 threes while scoring 53% from three.
Though the Jazz fought hard, they lost steam in overtime. Mitchell will be gutted that his record-breaking performance went in vain, but will only be motivated to get the win next time. The Jazz know the series is still up for grabs and will be stronger in the next game.